For LIBÉRATION with Jacky Durand
TEN DAYS WITH THE POLICE SQUAD IN PARIS XII…
Far from sensationalist reporting, Jacky Durand and Samuel Bollendorff spent ten days and nights with Police Rescue squads in the twelfth arrondissement of Paris, where the security discourse gives way to social emergency. A chronicle.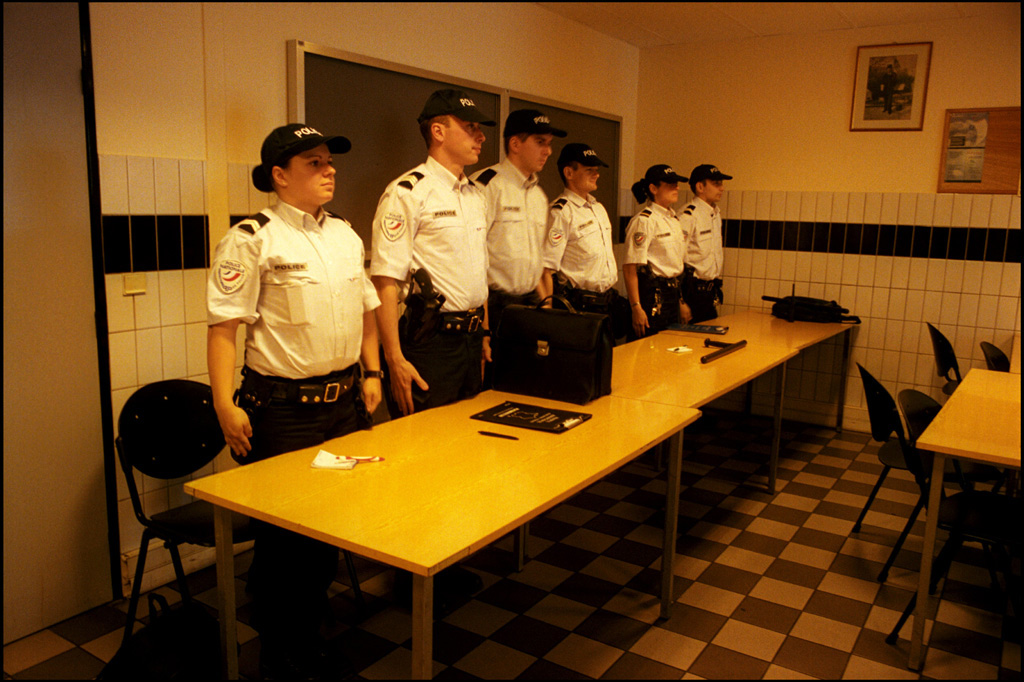 2.45 pm, call in the ranks of the J1 team. An officer states the agenda: stealing of copper in yards, young people taking drugs on Reuilly boulevard,risk of sudden arrival of the K 8 tribe in the 8 Prague street. The officer also reminds the rule concerning the dangerous dogs.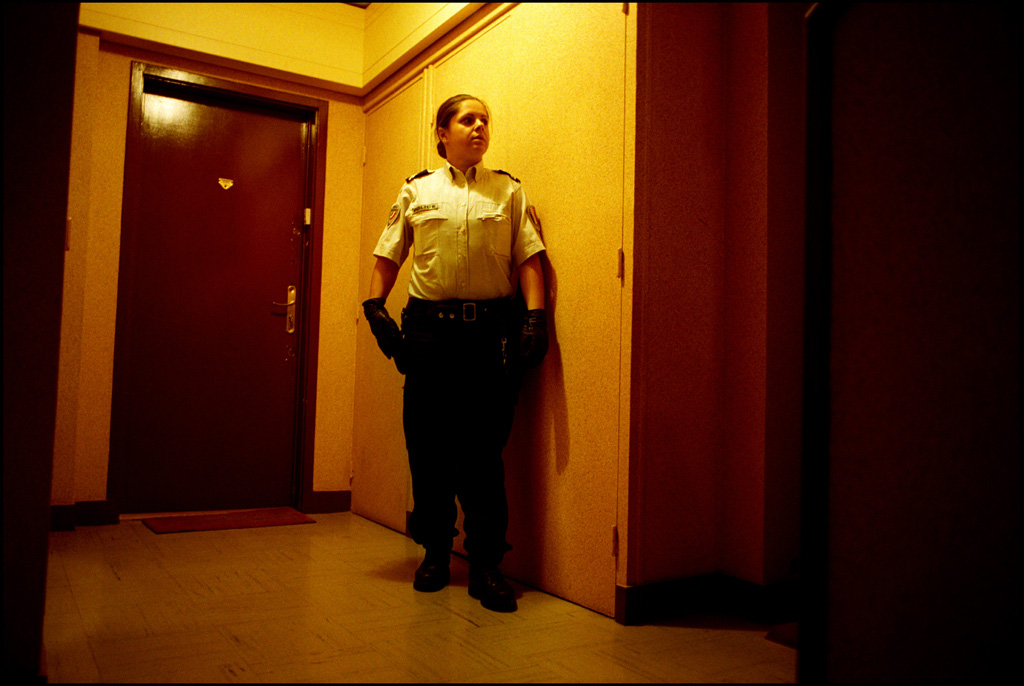 6.45 pm,In the stairs, the agents intervene after a call frm the neighbours. A couple seems to fight.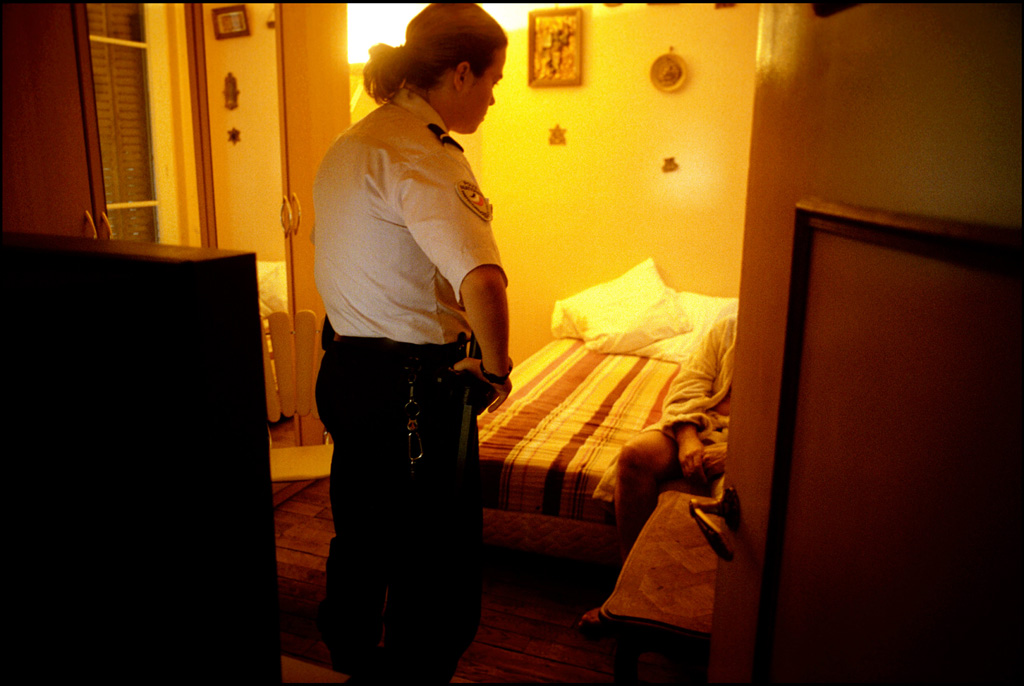 6.13 pm,
Call for a state of madness next to Dausmenil squarre.
On the second floor of an old building, a man refuses to let himself taken to the hospital by two ambulance men. Smell of urine behind the red door, the kitchen, the two small rooms and the living room. A little woman with grey hair and a thin silhouette tries to convince him. She is her mother. The man is lying on his bed, in his bathrobe. A gameis on TV.
- We are going to take a pyjama to dress him up.
- I won't put it on, I won't putit on, repetes the man on his bed.
- We're not gone yet.
The cops try to hold the man on his bed to make him stand on his legs. Sébastien holds one of his arm, then the other, the man lets him do. He says: " Call my mother. " Fabien sweats. The man seats on a folding wheel chair. He screams:
" What are these? What are these?", while the ambulance man gets closer to him with fetters in cotton.
The mother says : " it's because of his nerves." And to her son: "You are going to take care of yourself."
To Saint-Antoine hospital.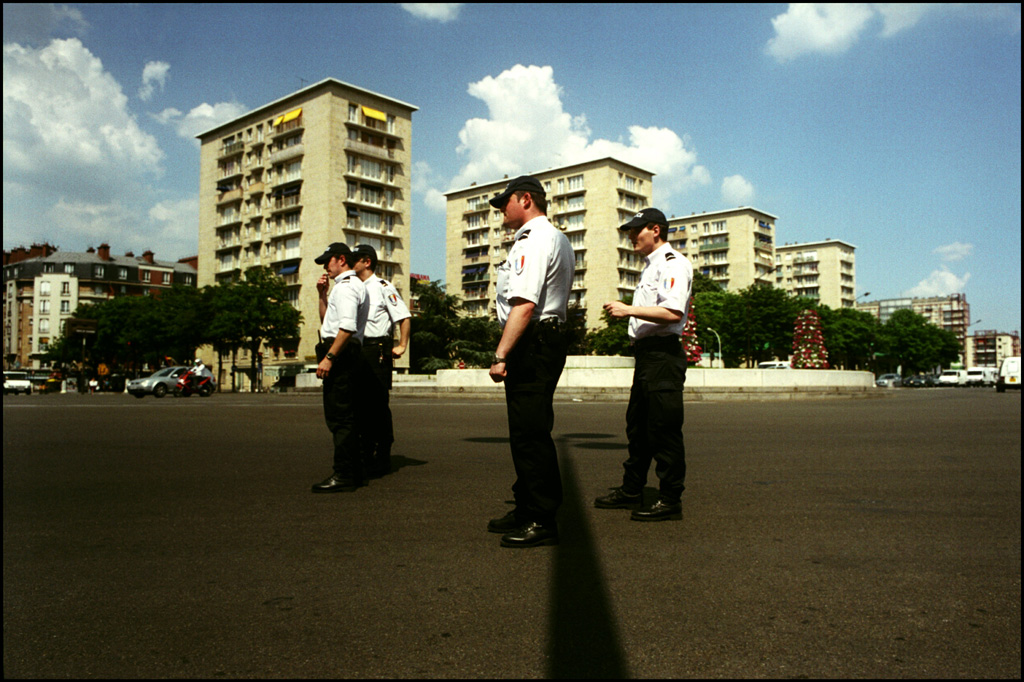 3.50 pm,
The van parks behind a bush of flowers at Vincennes' gate for a serie of road control. A grey Polo Volkswagen grise takes the bus road. The young woman ignores the wistle of Loic and continues her road to the ring road. The Polo gets its way through the other cars and prevents the cop who runs in the middle of the crossroad to write the registration. "If I had done a report, she would have been called to explain her behaviour. She knew what she was doing. But we could not catch her with this," says Loïc showing the van.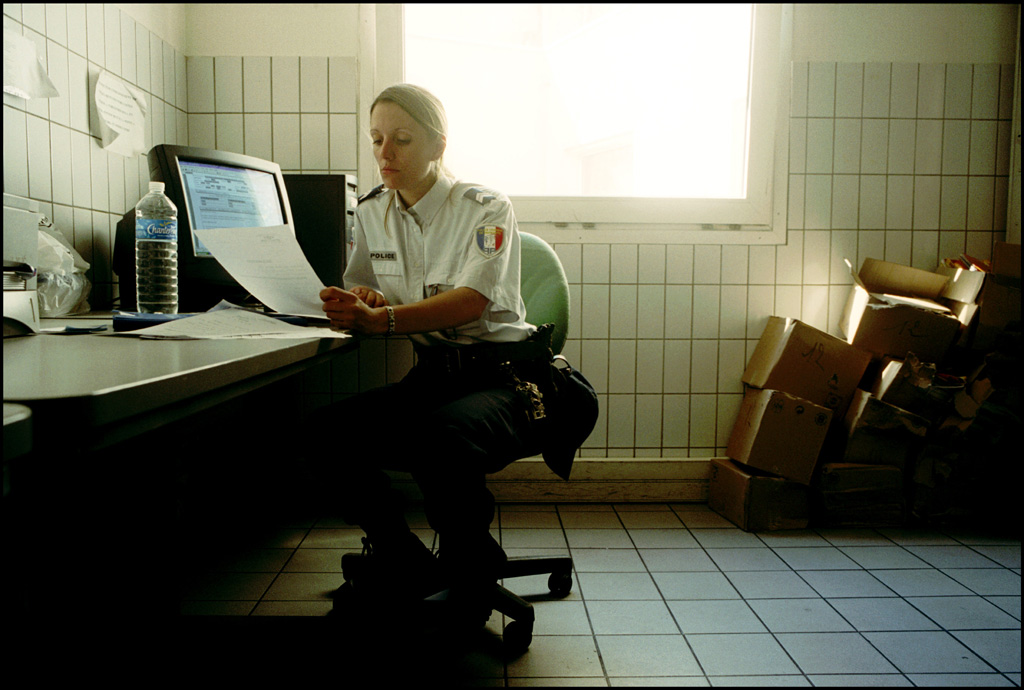 5.35 pm,Writing of reports of interventions.
8.15 pm,
Béatrice looks for a vet for a dog found in the Vincennes wood. "In the Vincennes wood, one can find a lot of abandonned animals, " says Loïc. "At one point, some would through them in the lake, their legs tight."
" The dog has to be checked by a vet. If the animal is not ok, it will stay at the vets. If it is ok, we will put it in the underground of the police station, in the left luggage room."
9.15 pm,
Béatrice tries to find the owner of the animal by his tatoo.
She found the owner, but she doesn't live at the address Béatrice found.
This procedure took Béatrice two hours.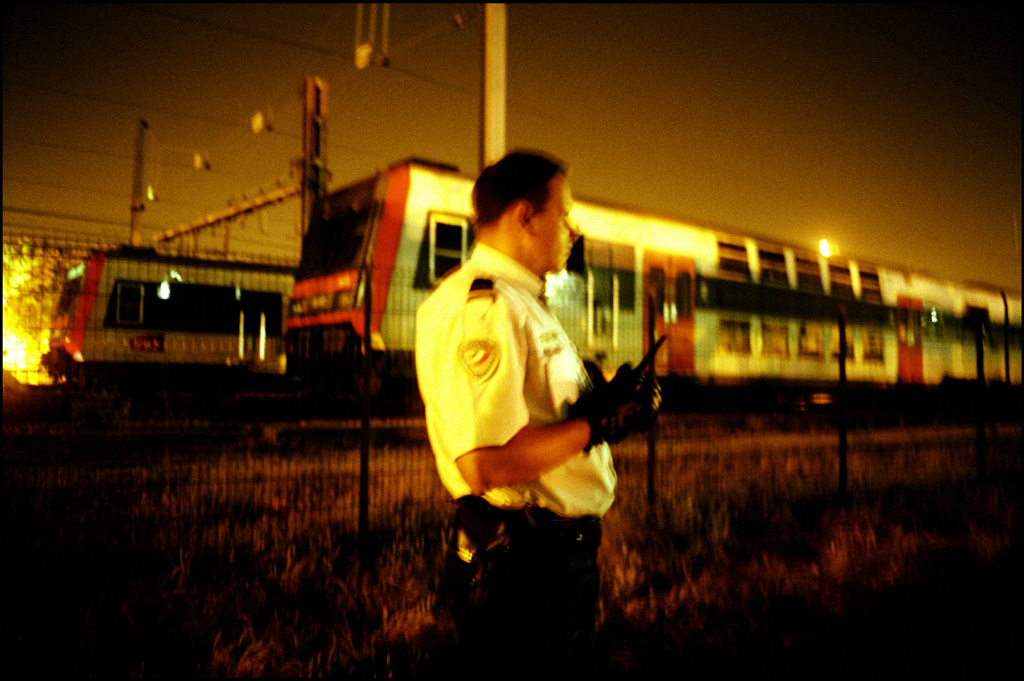 3.12 am,Running after taggers on the rails of Lyon train station.
03h20,Identity check.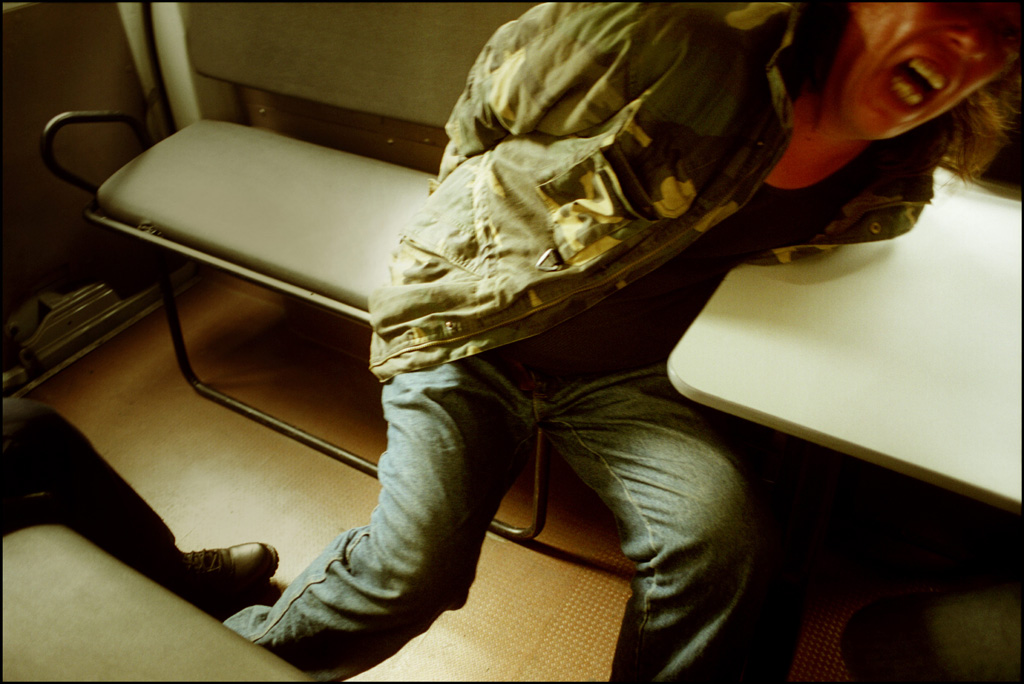 4.15 pm,
PS12 alpha goes to Lyon train station for an IPM (Drunkeness on a street)
" He's drunk, he pisses of everybody. He should take his train to Dijon," explains a cop showing a giant dressed with a camouflage coat. He is Finnish. He says he crossed the Belgium border during the night, hichhiking, he wanted to go to Spain.
His name is Kimmo, he is 40 and obviously very drunk. He holds a container of wine and a bottle of Pastis.
Kimmo is taken to the ER of Saint-Antoine hospital to know if his physically able to stay in a sobbering cell."
Fabien, as at ease with heavy metal than with quick driving recalls Kimmo that his country won Eurovision with a hard-rock band. " You win Eurovision ! ".
Kimmo finds himself in a room made of wood and ciment. He falls asleep righ away but his smell does over hours in the police station.
Emilie washes carefully her hands and the black leather gloves.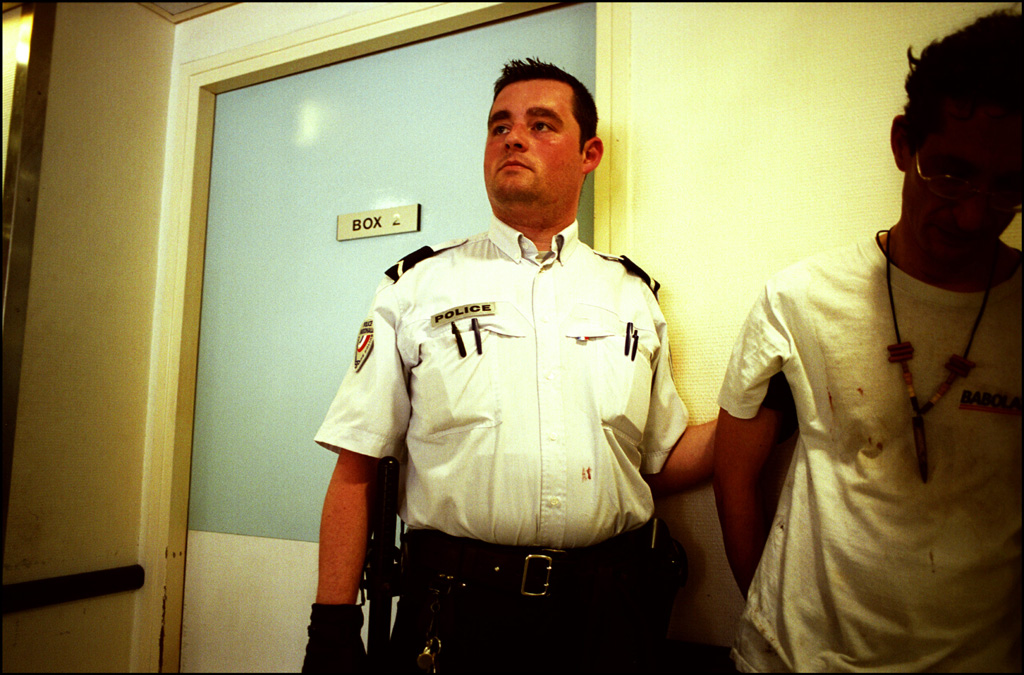 4.15 pm,
Call for a madness crisis in an appartment on the ground level of Vincennes yard. Mr M. appears at the window.
"It's not the first time we come see you Mr M., " says Loic. "What's wrong today?".
Mr M. opens. "I can pee here if you want," says the man showing the floor.
"I don't want to talk to you. Your appartment is a real mess," says the cop.
"Outside too, it's a mess," says MrM.
"Come on, Mr M., let's go," says Loïc.
The three cops try to control Mr M who gets tense. Béatrice holds an arm. Enrique talks louder while putting him the bracelets:
"Do not make me nervous Mr M. It's been four times that I have come to your place."
Mr M. is under control.
" You do too much bullshits," says Loïc. He recalls Mr M.'s latest disturbances his neighbours blame him for.
He starts crying when asked to put his shoes on.
"Right now, my shoes are dirty", he says.
'What did you drink? " asks Loïc.
"what you want me to," answers Mr M. who walks with barefeet on Vincennes yard before entering on a bench of PS12 Alpha's van. He stinks like Cologne.
"I'm a star. I'm Darry Cowl."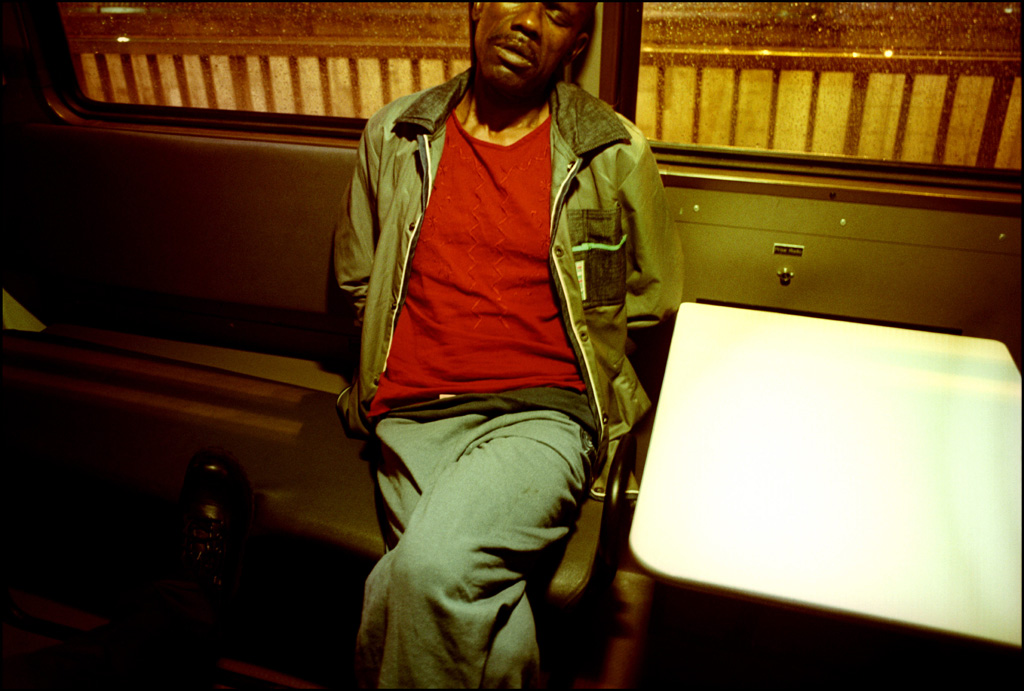 5.30 pm,
Next to the sobbering cell number 1 at the Police station.
The room with blue walls is made of a bedstead in cement covered with wood, a Turkish toilet which flush works from outside the cell.
Enrique and one of his colleague check that Mr M. takes of all that what could be "dangerous for him in the sobbering cell"": bracelets, necklace with a pointy ball, and rings.
"I keep the rings," says Mr M. do you want me to be naked?". Emaciated face, red eyes, he ends up by accepting to take of a last ring he throws on the ground. A guardian with black gloves takes a bell off him, but Mr M. doesn't want to take off his boxers. Two cops keep him calm as a third one cut the string with a knife.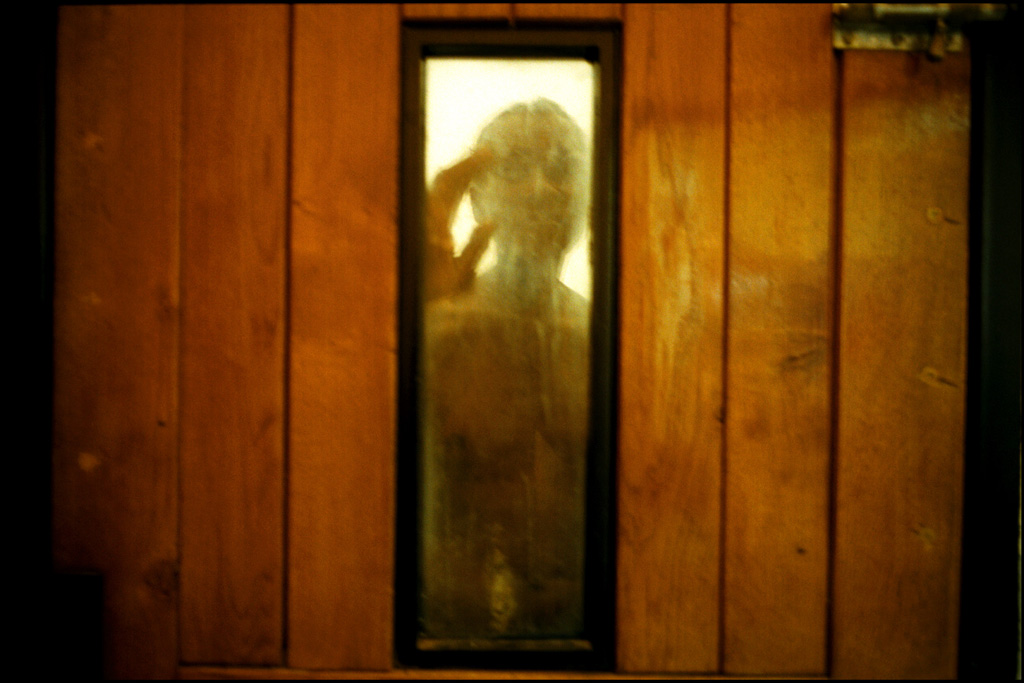 5.12 pm,
The door of the sobbering cell shuts down
5.14 pm,
Mr M. pees against the cell's door. A pool of urine spreads in the hallway.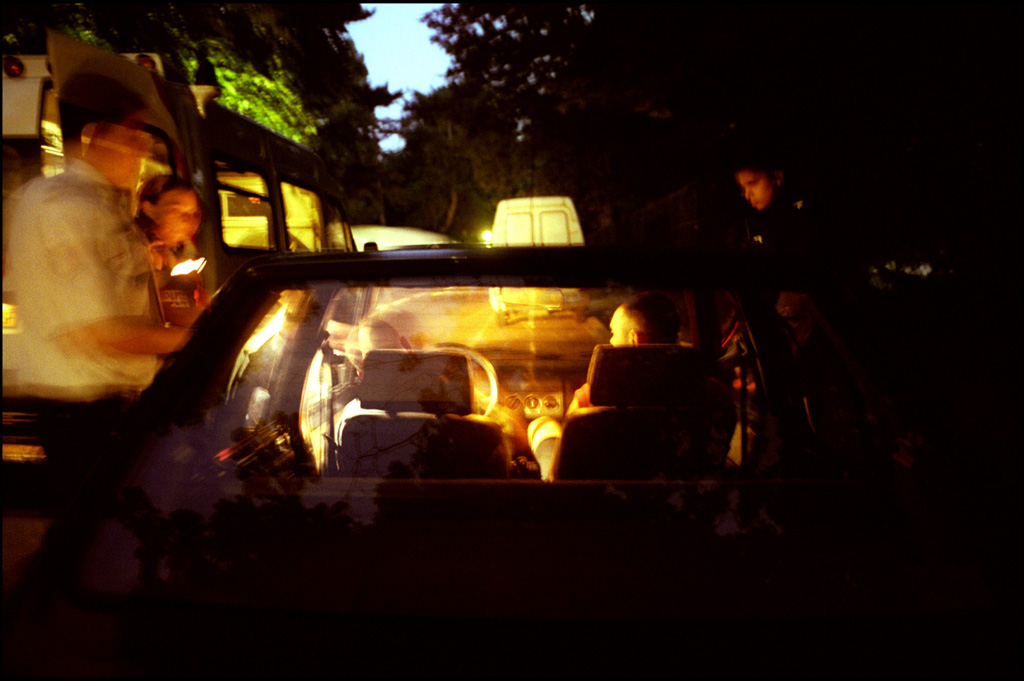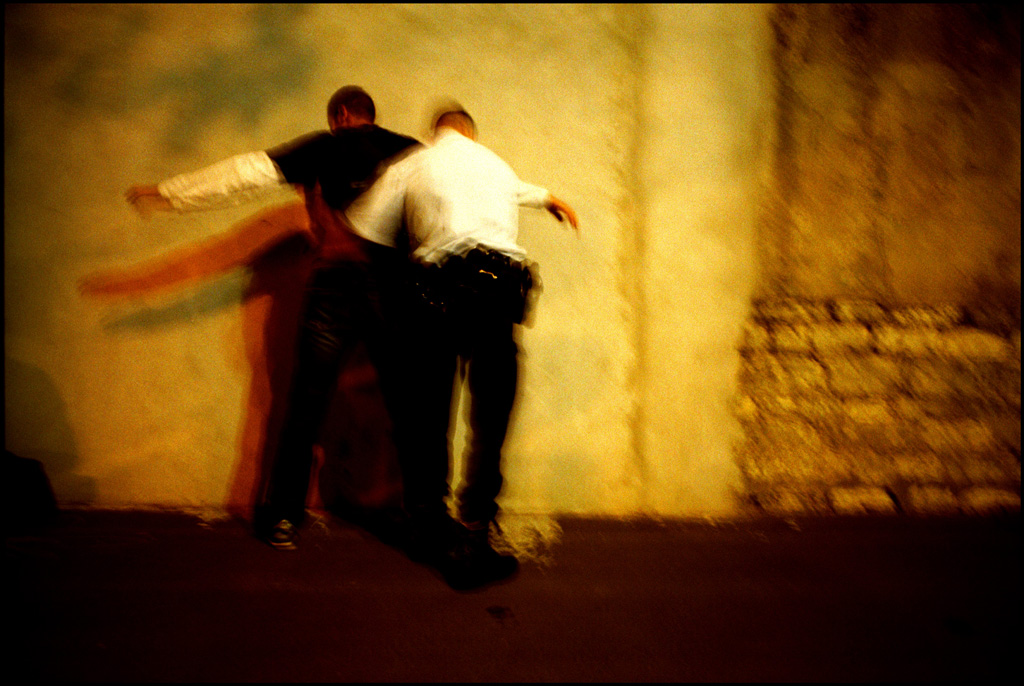 05h40, In the Vincennes woods, police officers are checking the IDs of two men in a car. In this area, parking at night is forbidden in order to discourage prostitution.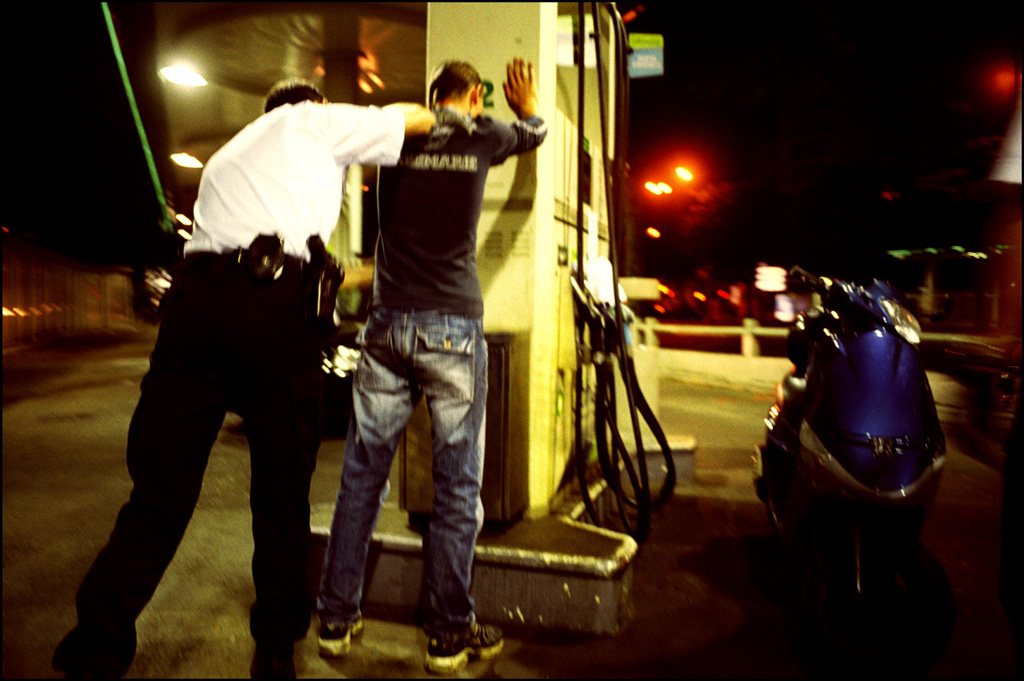 11.05 pm,
Vincennes gate, a groupe of scooters have a refill at a BP gas station. "Let's control them," says Patrice. Grégory, blonde hair parted on the side, "17, at the end of October" la raie sur le côté " dix-sept ans au mois d'octobre " drives on a non insured sooter. "I just bought it, I already gave half of the money," says the young man."We take you at the police station with the scooter. your parents will come and pick you up. You are under the legal age," says Patrice. " Please sir, not to the Police station," says Grégory. His cousin, old enough, is not happy. he throughs his helmet on the ground. Grégory is worried: "How is it going to happen? What is going to happen to me?"" you are going to heard," answers Patrice. Grégory doesn't understand the language."is it a jugement, sir?" "No, there is no coertion," adds Patrice which words doesn't reassure Grégory.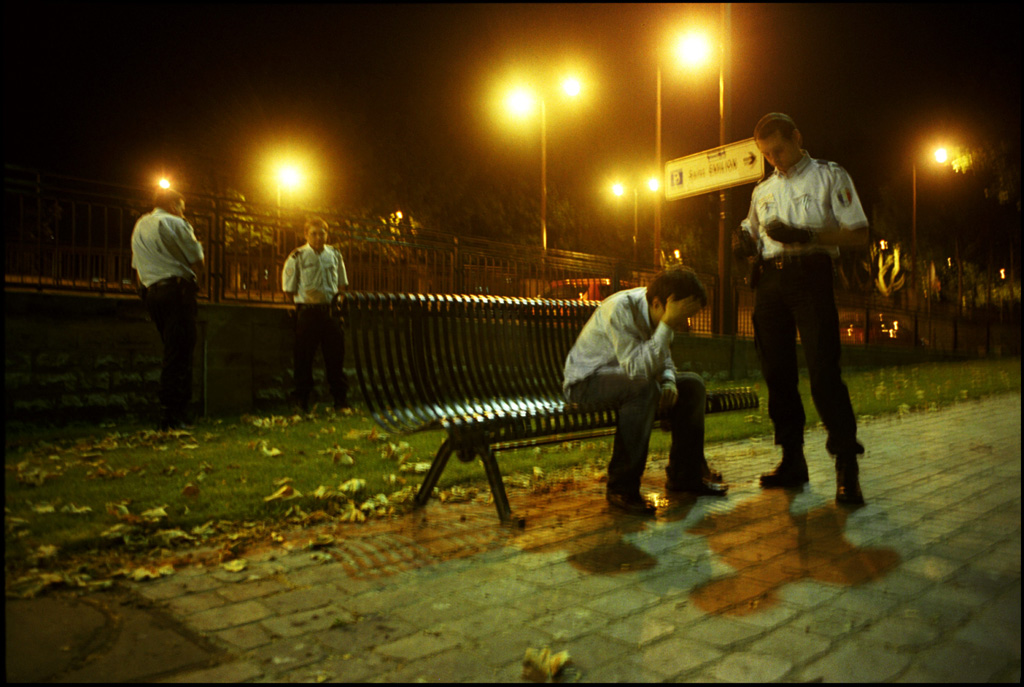 3.45 am
Sandwich break, salad and taboulé.
4.05 am,
Between Bercy and theroad on the banks, a man lies on a bench. He drunk too much. Patrice wakes him up loudly. "Come on, get up, open your legs, you have to vomit." The young man does it. "If it continues to turn, you must vomit again. there is some left," says one of the cop. Lets try to deal with this problem without the sobbering cell," says Patrice who wants to avoid another back and forth at the hospital. "How did you come here?" "I walked," says the young man recovering a bit.
He has money and is going to take a cab saying: "This is what it takes to celebrate the end of highschool."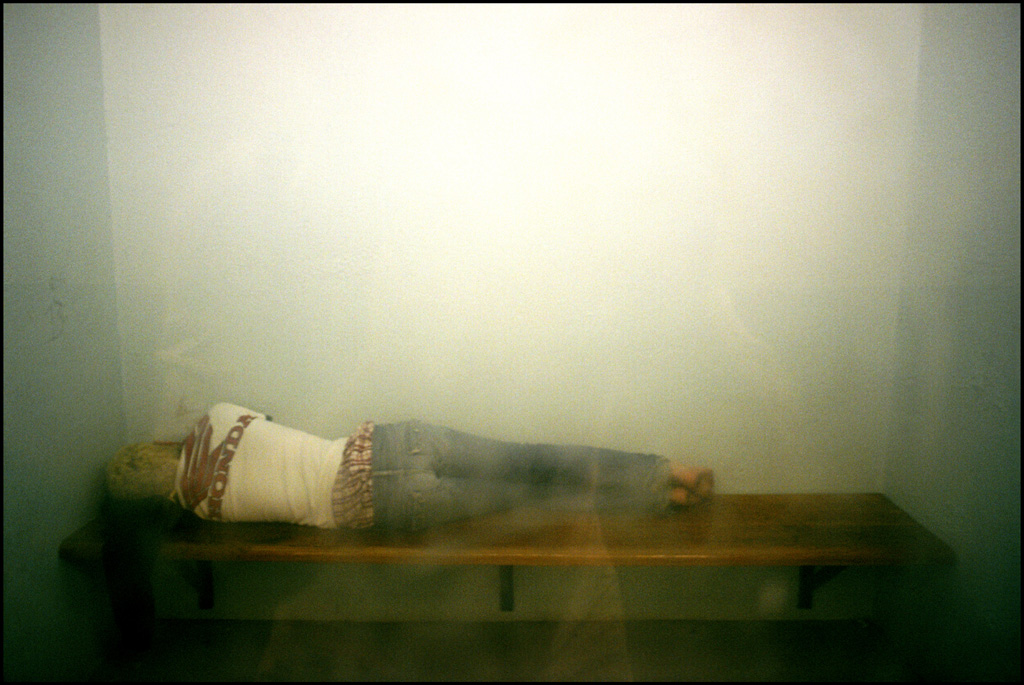 7.10 pm,
In the custody area, a man bangs violently at the glass door full of greasy dirt. The lieutnant responsible for the J2 team goes to see him. He is a man, with a naked torso with muscles but bearing the disease's stigmas. He says "he's been banging for more than an hour, he's suffocating, he's going to die, he's got AIDS." Someone brings him a bottle of water. An intern of the police station opens the door of the cell of the custody number 3 from where gets out a heavy warmth and smelly of a confined body.
"I'm 26, I'm going to die, I have AIDS. I had the disease for a while, but it has been declared for a year." He cries.
The lieutenant tries: "You need to give time to the treatment to have an effect." The man: "I'm going to die." He also repeats that he's been banging at the door for more than an hour: "People who wear tracksuits and tennis shoes are not only scums," he says. He coughs: "I suffocate."
The dorr of the jail has been kept open to leave some air get in.
The firemen arrive. The young man will be taken to the Hôtel-Dieu hospital.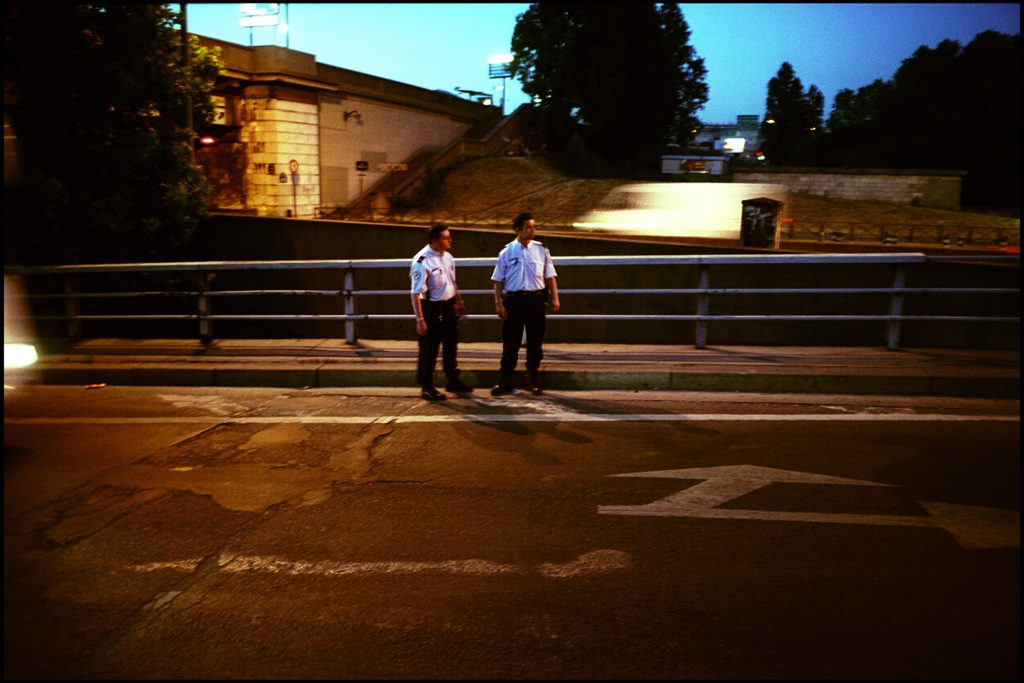 Shortly before dawn, next to Bercy's bank roads. This night, the police squad had to intervene for a drunkness on the street, noise disturbance, a water leak…
Texts by Jacky Durand.