THE BIG ISSUE
A web documentary  by Olivia Colo and Samuel Bollendorff
Produced by Honkytonk Films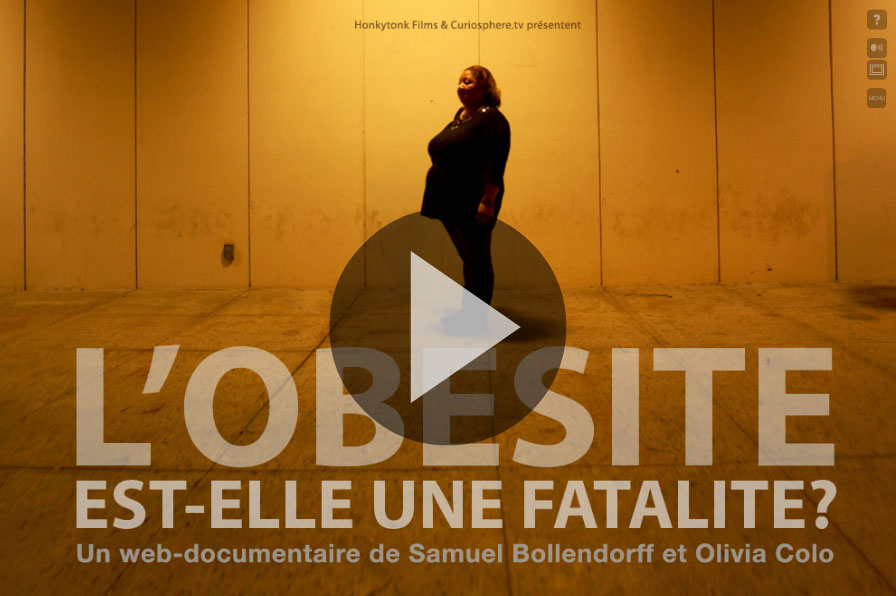 In 2015, 2,3 billion human beings will be overweight and 937 million will be obese.
In a world where we are putting on weight, too much, much too quickly, " The big issue" wishes to explain without any Manichaeism, the origins of this real plague of modern societies.
Through a playful and interactive voyage across the United States and Canada, the European Parliament and Northern France, the web user will have to appeal to his critical thinking to forge an opinion on obesity, and on the patterns of behavior to be adopted before the planet turns size XXL.
SPECIAL MENTION for innovation awards 2009 – Sheffield Doc/Fest, Sheffield, UK
SPECIAL MENTION in emerging media awards 2009 – Prix Europa, Berlin, Germany
Screenings and Conferences :
IDFA Doclab, Amsterdam, Holland – November 2009
Festival des 4 Ecrans, Paris, France – November 2009 (IN COMPETITION for "web films")
European Doc Days, Torino, Italy – November 2009
Projection of Reality, Moscow, Russia – March 2010
CONTAMINATIONS
NIGHT FALLS ON EUROPE
BURN OUT They self-immolated to be heard
THE PARADE – The movie
NOWHERE SAFE WINS PRIX EUROPA AWARD
THE FORCED MARCH the forgotten of the growth
ANGOLA for few more barils...
THE BIG ISSUE
THE MEKONG'S ROBBERY
IKEALAND life in assembly
FACING
POLICE SQUAD
TOKYO
FRENCH MAJORETTES
FASHION WEEK
JOURNEY TO THE END OF COAL
HOMO-NUMERICUS
AIDS SILENCE Drug addiction in St. Petersburg
AIDS SILENCE Generics for all
AIDS SILENCE A lost generation
INTIFADA
HOSPITAL SILENCE
THE FORCED MARCH The book
2 documentaries at EUROPA price