In January 2016, in northern Greece, the borders closed, leaving 46,000 children, women and men, traumatized by war and exile, blockaded in Idomeni, in the middle of winter. Left in the rain and cold, in the middle of garbage and faeces in front of the closed doors of Europe.
There is no shortage of images that testify to these situations without provoking any change in the policies that make the shame of Europe. Public opinions disarmed, are certainly affected but not enough for the leaders to take account of the impulses of solidarity that can be expressed. Worse, they condemn them.
The images of shipwrecks in the Mediterranean Sea that we have faced over the past few years unfortunately do not change nothing more. We saw it with the sudden, ephemeral, awareness of the horror following the publication of the image of Aylan Kurdi, child dead on September 2, 2015, lying on a beach in Turkey.
Faced with the rise of populism, it is high time to re-sensitize the public to the reality of brutality, of the unbearable trauma experienced by these thousands of women, men and children, wandering on the roads of exile.
It is our humanity that is played out in the European project's ability to protect them.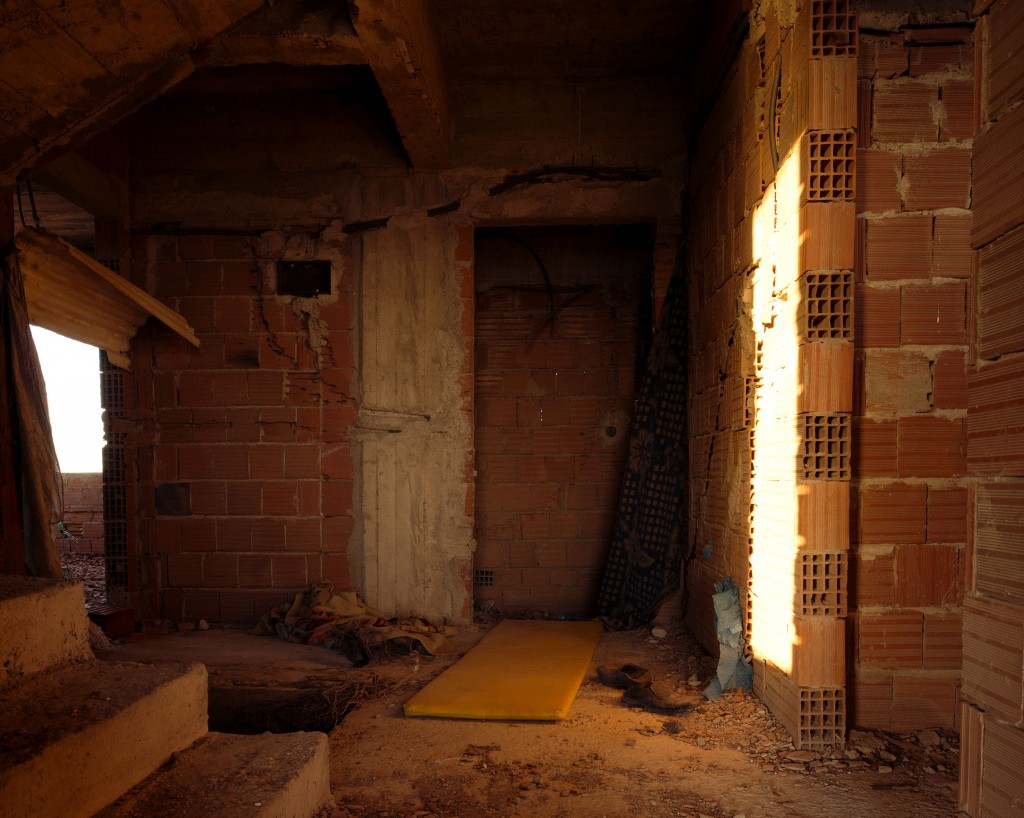 On a Turkish clifftop, opposite the Greek coast, there is one of those houses that seems forever being built. It is here that the refugees wait for their crossing, at the mercy of the smugglers.
It is in hotels, apartment squats or building sites that smugglers make immigrants wait in sometimes insalubrious conditions, sometimes under duress and sometimes for weeks on end. The smugglers take advantage of anything vulnerable. The price of the crossing has mounted to 1,500 dollars per person.
They have fled the war to seek protection for their children in Europe. They have sold their homes, their shops, their cars, they have sold everything to finance their exile.
For some women, escaping the war is also escaping the regular rapes that are taking place in the context of the Syrian conflict. The more vulnerable ones are continually subjected to sexual violence along the route. Those who do not have enough money are easy prey for the smugglers. Selling their bodies often becomes the only way they can pay for their crossing.
After her husband died in the Syrian bombings, Maria, a Syrian woman of 36, decided to escape with her son. As she was making her way with no means at all, she was forced into sexual relations with a smuggler to pay for their crossing towards Europe.
Every border closure is an illegal route that opens…. and an increase in the price to pay for exile.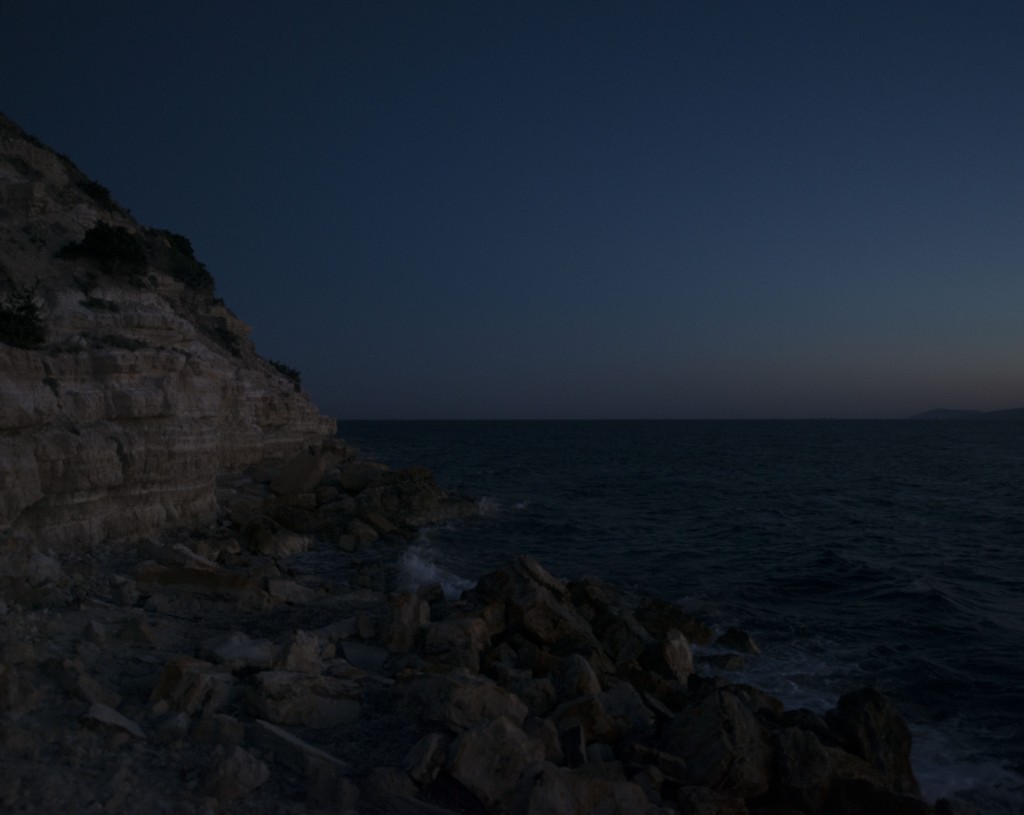 Access to the sea is by night, at the bottom of the cliff, amidst the rocks whipped by the raging sea. It means hurrying onto the unstable dinghies that sway in the rough undercurrent. At the tiniest sign of hesitation, the smugglers force terrified men, women and children to pile into the decrepit makeshift tubs, threatening them with their guns.
Saïd, a Syrian refugee, paid 10,000 dollars to cross the sea with his wife and six children. The smuggler had guaranteed that they would be alone on board the boat, and when he saw that it was crammed full, Saïd protested. The smuggler threatened him with his gun so they ended up boarding. When the dinghy capsized, he was the only one to survive. His wife and children drowned and died. At night, in the Aegean Sea.
The inlet has become a cemetery for refugees.
The Greek customs officers arrived by boat, banging into ours saying "Go back, go back!" In knocking into us, they made a hole in the hull. Everyone was shouting and crying, "There's water in here! there's water in here!". The boat keeled over. I managed to get my son and wife out of the cabin, but the others were trapped inside. There were eleven people, eight of them children. The boat sank with the families inside.
In the water, I held onto my son and asked the police for help. I held my son out to them but they just laughed and said, "you're on your own, fuck you!"
Luckily a Turkish boat arrived, so the Greeks took my son, threw him on board and caught my wife by her hair to pull her onto the boat's deck."
Khaybar, Syrian refugee.
More than 5,000 people died in 2016 trying to cross the Mediterranean.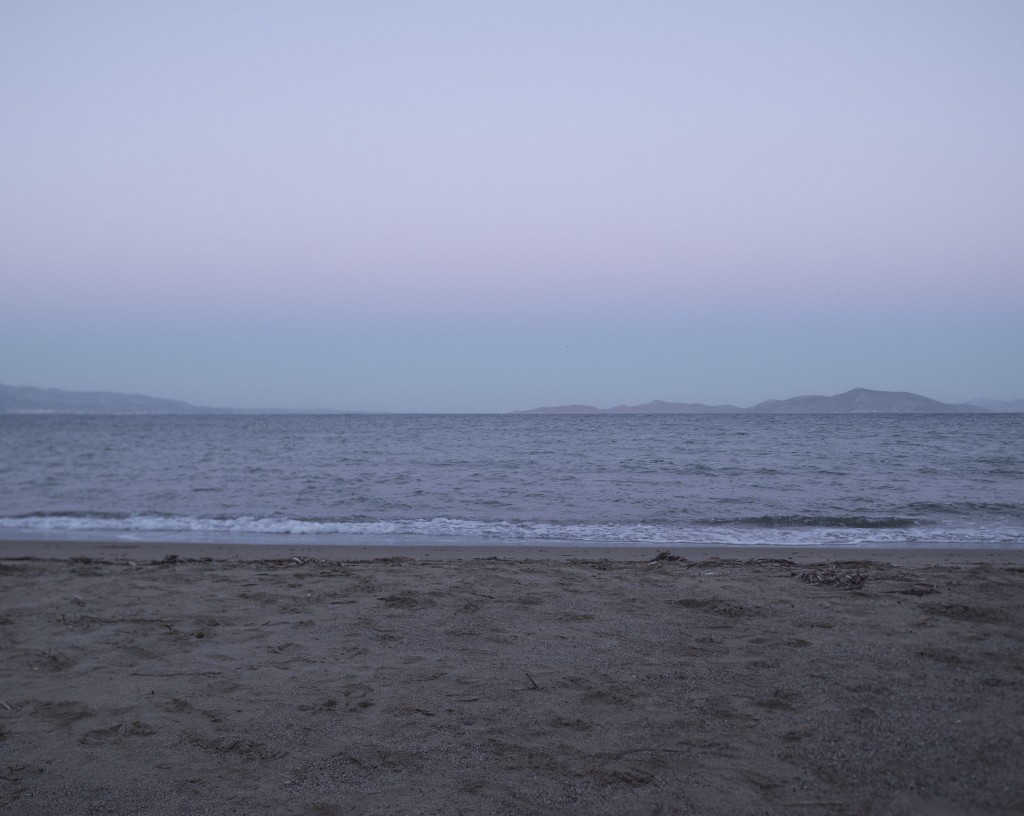 "The sea seemed to be calm, the smugglers told us that the crossing would take 10 minutes. But the waves were so strong that the dinghy overturned. It was dark, everyone was screaming. We tried to cling onto the boat but it was deflating. My children slipped out of my hands."
Mohamed Kurdi, a Syrian, had escaped from Kobané with his wife and two children. After their third attempt, that night they tried to cross the Aegean Sea between Bodrum and Kos.
On 2 September 2015, at dawn, Aylan Kurdin, 3, his brother Galip, 5, and their mother Rehan, 27, were thrown from the sea onto Akyarlar beach in Turkey. That night 12 rubber boats, into which 175 people had been crammed, tried to reach Kos Island. Not one of the boats ever arrived.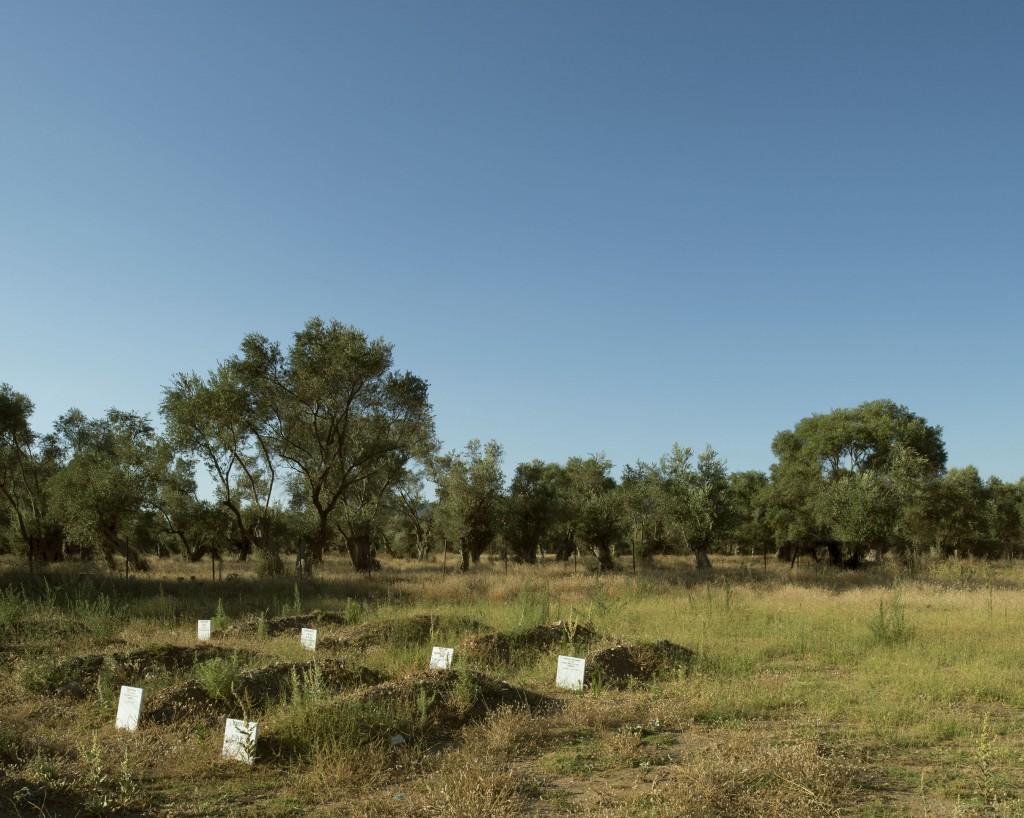 The Mitilini cemetery is full. One of the fields is used just to bury the bodies which the sea has discarded onto the island's shores. All that Christos Mavridakis, the cemetery warden, sees is the endless rows of tombstones, sounding the death knell for exile. And the end of hope.
"25 August 2015, no name!
4 September 2015, no name!
9 September 2015, no name!
30 September 2015, no name, a baby!
30 September 2015, no name, an entire family!
2 October 2015, no name
13 October, a lot of infants…"
The dead are the only exiles that stay in Kato Tritos. The survivors must carry on with their journeys.
Sham lost her husband and her son who died during the crossing of the Aegean Sea. Sham was not able to stay an extra day to bury them: the group with whom she was travelling had started on their journey again. To stay alone would have been too dangerous.
Sham has left again, leaving those she loved behind her, buried under foreign soil.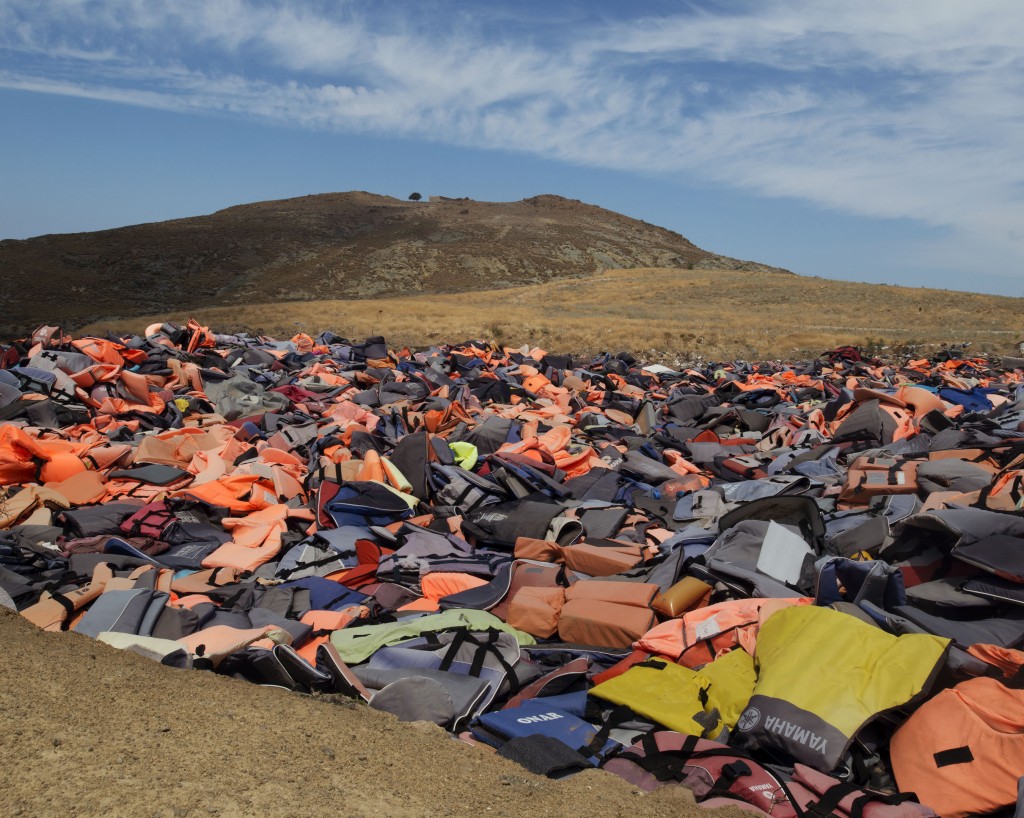 "These are not life jackets but death jackets. It's just a massacre. That's why so many children drown. Most of them don't know how to swim, but in any case, they have no chance of even floating."
A life-jacket manufacturer from Izmir
Most of the life jackets that are sold for 10 dollars in Izmir are fake. If someone falls in the water, they fill with water and accelerate the drowning of those wearing them. On the Turkish coasts, more and more shops take advantage of the lucrative business of selling life jackets and rubber dinghies that are not at all adapted for navigating on the Mediterranean.
"We can't stop them leaving. And if we don't sell, the one next door will sell, the one behind will sell…" Françoise Olcay, the French honorary consul in Bodrum, was also selling life jackets and rubber dinghies to the refugees.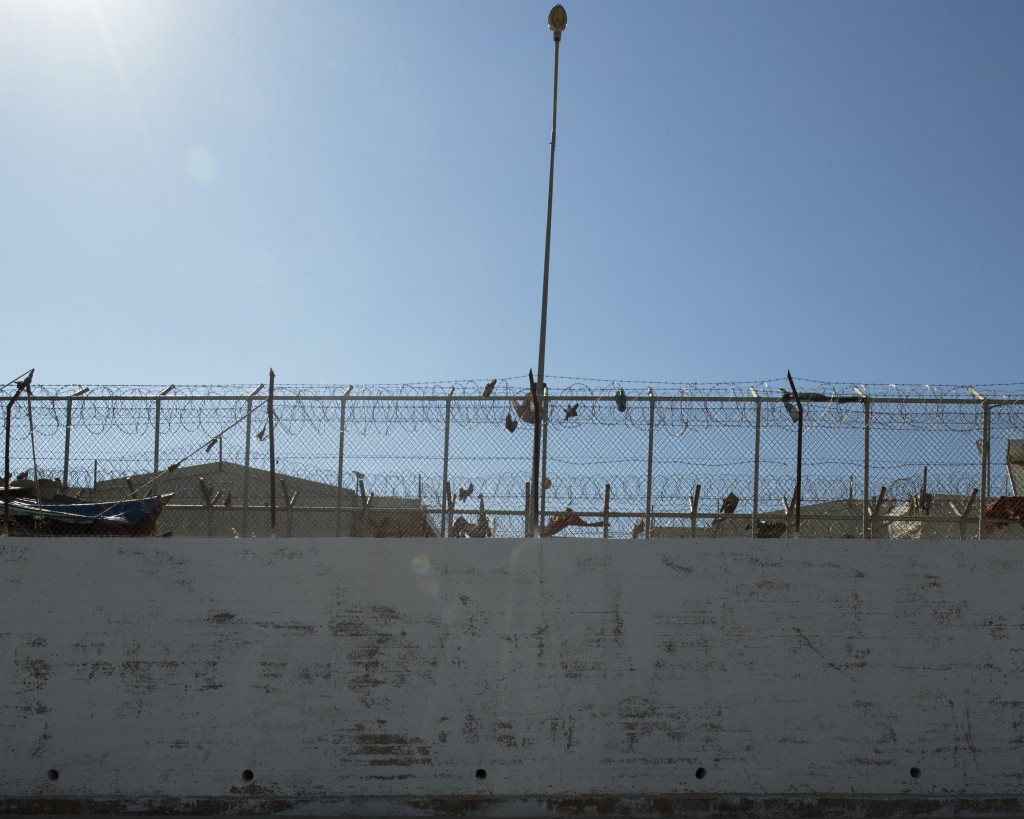 On 20 March 2016, Turkey and the European Union agreed on a plan to reduce the arrival of refugees and migrants in Europe. All the "new irregular migrants" arriving from Turkey into Greece will be sent back to Turkey which Europe considers to be a "safe third country".
A "safe third country" from which the authorities round up and expel hundreds of Syrian children, women and men back to Syria. Those who attempt to cross the border illegally to escape from Syria are shot at by the Turkish army.
On 20 March 2016, the "hotspots", which are the Greek islands reception centres, were transformed into detention centres. Men, women and children are locked into open-air, over-populated prisons for weeks on end. "Guantanamo! Guantanamo! Help! We've become corpses!"
Since then, the exiles have had no other choice but to seek asylum in Greece. Even if the camp is now open, they are not allowed to leave the island. Thousands of people traumatised by their recent exile are now held in camps, anxiously waiting for the endless application process to go through.
In the camp, the mixed tents, the squalor, the violence, the precarity of lone women or isolated children, fear… all added to the traumas of the war as well as the anguish of not knowing what was going to happen…
"I'm missing my mummy, I'm missing my mummy!". It is to these words that Saïd, a young man of 22, woke up in hospital after his suicide attempt in the Moria camp. Others chose to escape and pursue the road to exile, once again putting themselves at the mercy of the smugglers.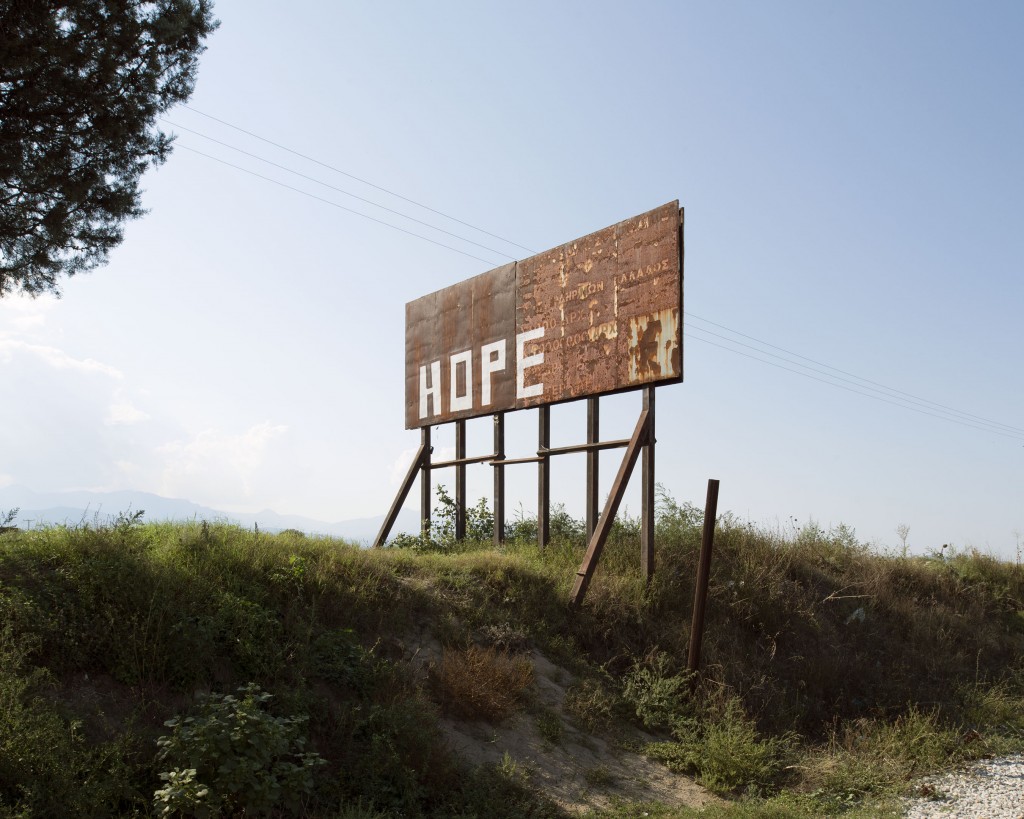 "Why won't they let us leave? Do they want us to die here?"
A Syrian man, age 70 in Aleppo
In January 2016 in the north of Greece, the border with Macedonia was shut down,
blocking the Balkan route and leaving 46,000 men, women and children stranded in the middle of winter under appalling sanitary conditions and cold rainy weather.
"Idomeni has been reduced to a dead end, a synonym for despair and suffering, a place where thousands of families have nothing to do but wait. I've watched them day after day growing weary, losing their minds, being swallowed whole by this inhuman camp. They lack even the bare necessities and live amidst garbage and sewage. They sometimes get aggressive just to get their hands on a bit of food, a bag of clothing or a few sticks of wood. Their days are employed in satisfying their basic needs —water, food and warmth— and waiting. But waiting for what?!"
A volunteer at Idomeni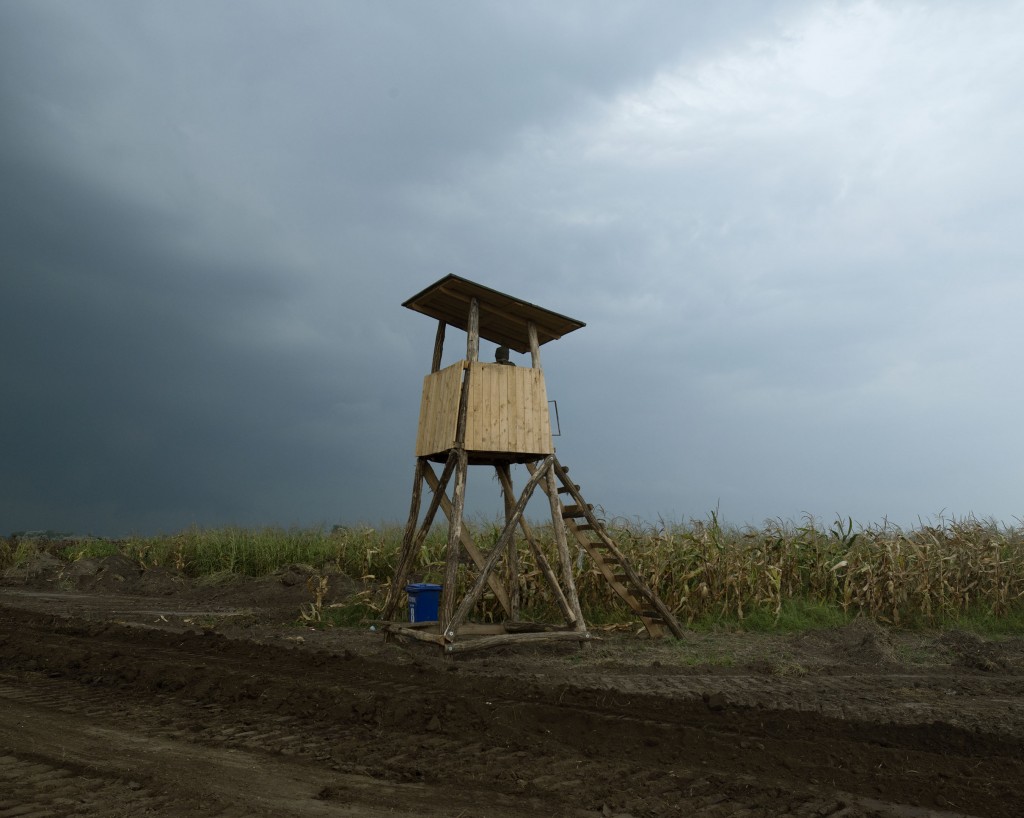 In September 2015 Frontex, a European agency, reported that more than 500,000 refugees had set out on the Balkan route since the beginning of the year, most of them from Syria.
In response to the thousands of refugees at its border, Hungary hastily put up a fence; a razor-wire structure four meters high along the 175 kilometers of its border with Serbia.
Hungary thus barricaded itself, closing off its border on the night of September 11, 2015, and its parliament voted 151 to 12 (with 27 abstentions) in favor of authorizing the army to shoot real bullets at the migrants.
In the opinion of Gyorgy Schopflin, a Hungarian euro deputy, a few pigs' heads strategically placed on the route along the Hungarian border might dissuade Muslim refugees from seeking asylum in his country.
In September 2015, the borders were closed one by one, leaving tens of thousands of men, women and children exposed to the elements in cold wet weather just outside the gates of Europe. Children saw other children die from the cold. Scarred for life.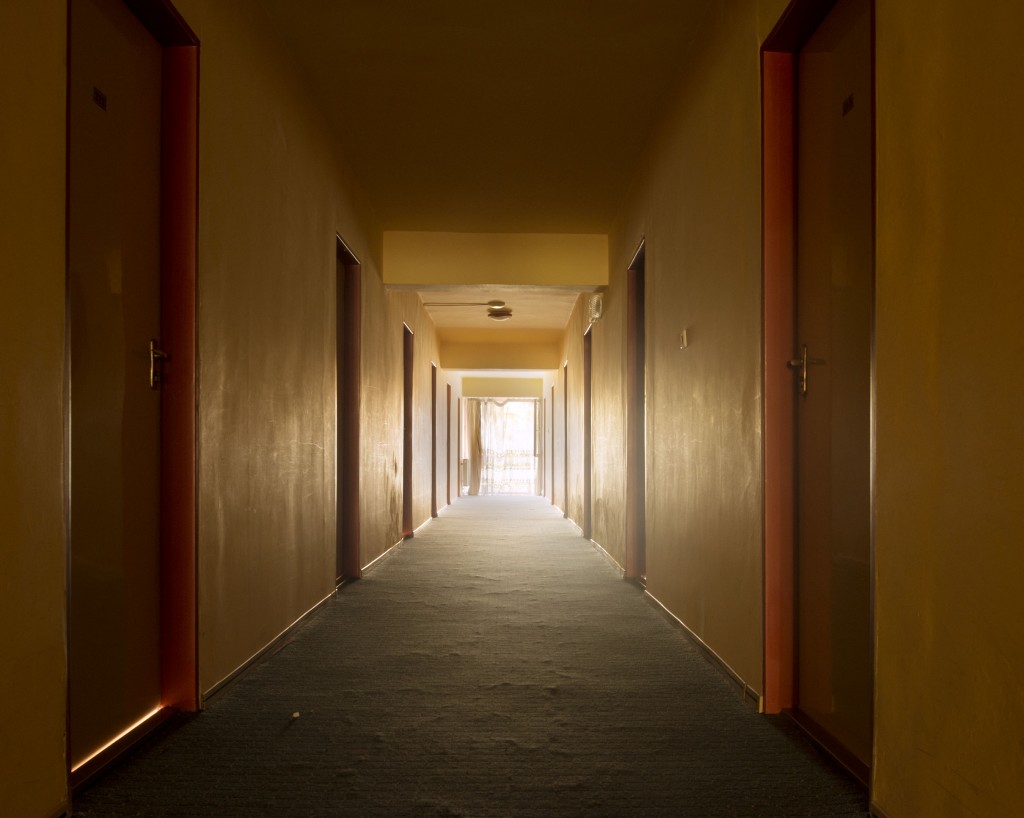 "Several children have been victims of sexual aggression by a gang operating in the "no-man's land" between Hungary and Serbia. The same gang cut off a girl's finger because she didn't have enough money to pay her way."
Jelena Hrnjak, program coordinator for Alina, a Serbian anti-traffic organization
Aya, 25, left Syria with her four sisters and several children: her own two toddlers, her young niece and nephew and her husband's two younger brothers.
After she lost the group with whom she was travelling, Aya ended up at the hotel Seni Stadium in Budapest. The place was dirty, filled with refugees sleeping in the hallways and in every place imaginable. The hotel personnel served as a go-between, directing refugees towards a network of human traffickers.
Aya and her sisters, having to pay 15 Euros each for sleeping on the floor, tried to negotiate:
"It's too much! You charge 15 Euros for sleeping on the floor! You could at least lower the price to 10."
"You have another choice. Come and join me in my room."
Forced labor, domestic servitude, prostitution rings, forced begging, exiles are handed over to traffickers and their trade. Certain NGOs have even evoked the sale of human organs in order to pay for passage.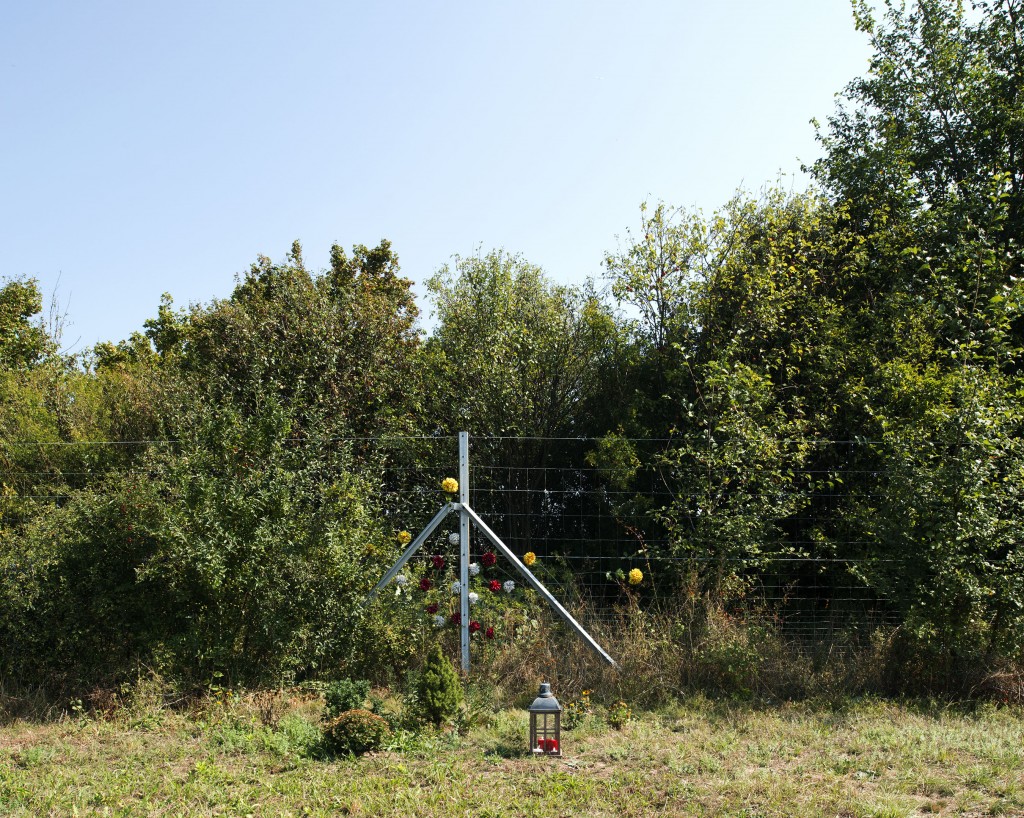 On 28 August, 2015, in Austria, a refrigerated truck was found abandoned on the emergency lane of a motorway between Budapest and Vienna. Inside were 71 corpses in a state of decomposition. 71 bodies of men, women and children, anonymous Syrians whose names will remain unknown.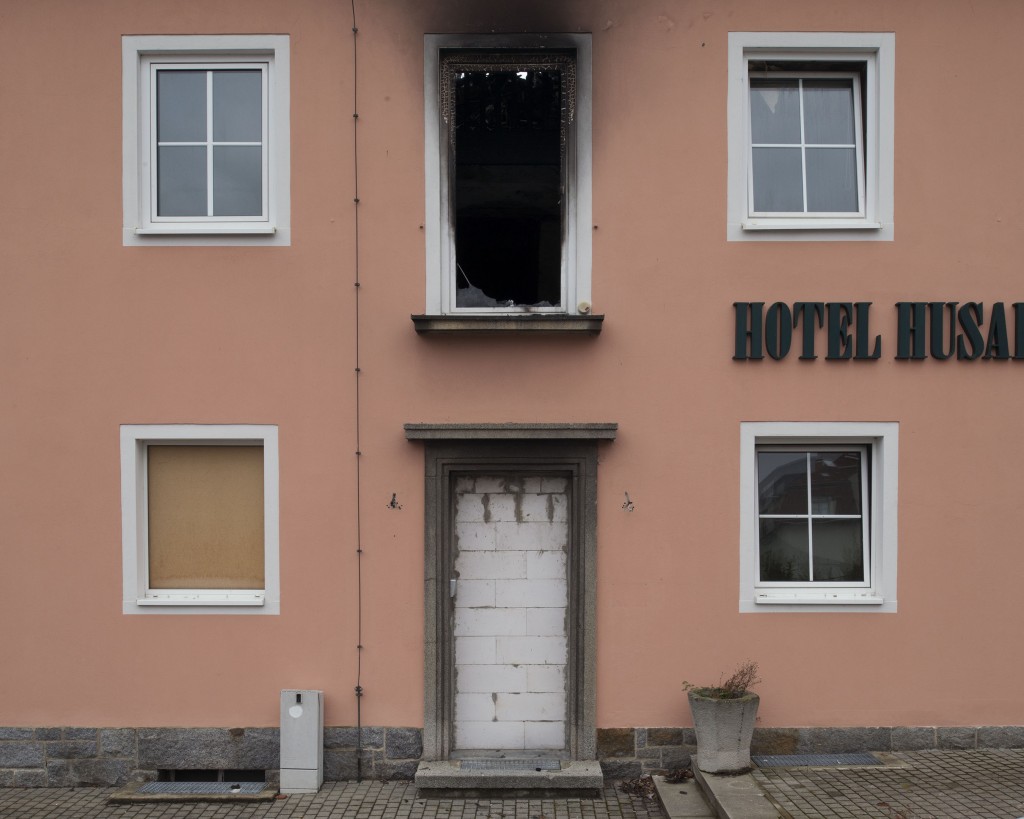 In 2015, more than a million refugees reached Germany, thanks to Chancellor Angela Merkel's favorable policy on the admission of migrants.
However, this welcoming policy provoked resentment and anger among extreme right wing movements. The migrants came increasingly under attack: Molotov cocktails, graffiti, insults, aggressions, headscarves snatched away, bloodied pigs' heads dumped in front of mosques. Nearly a thousand incidents were recorded.
In Bautzen near Dresden, a hotel intended to house refugees was set on fire drawing applause from onlookers. A few days earlier a bus had been attacked by right wing extremists, terrifying men, women and children as they arrived in the town which was supposed to welcome them.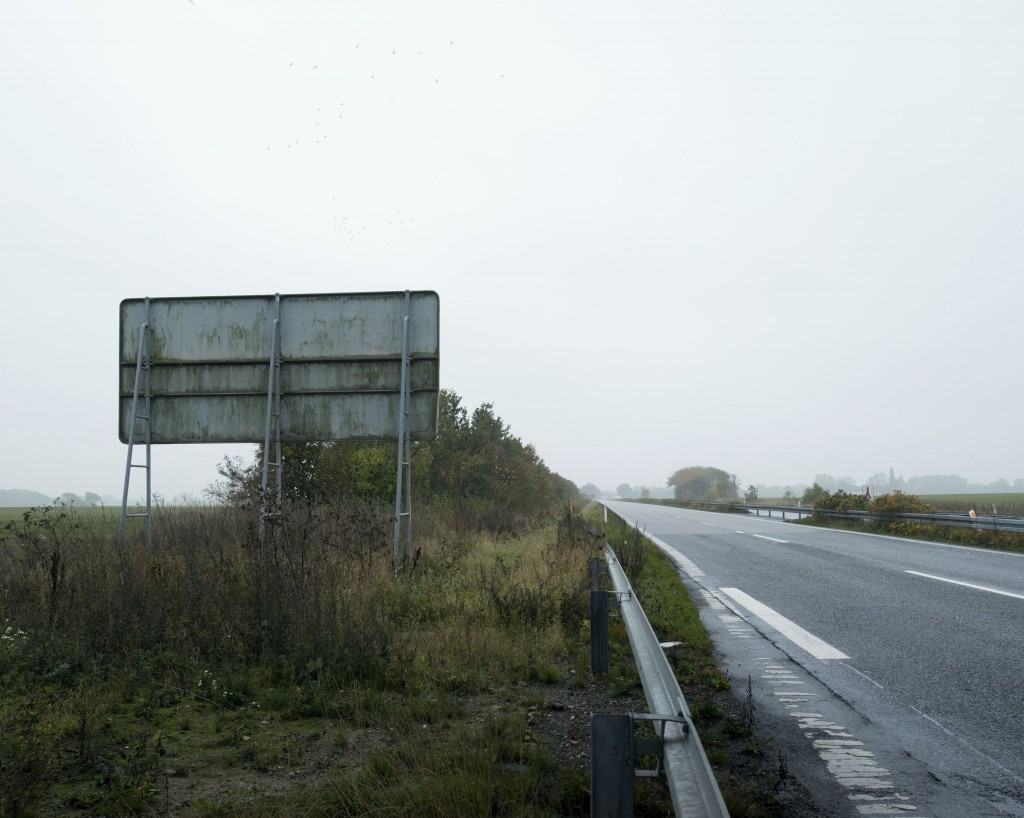 The Danish government does everything it can to dissuade exiles from coming to Denmark.
In 2015, faced with the arrival of large numbers of people trying to reach Sweden, the government closed the motorway between Germany and Sweden thus creating a corridor 190 kilometers long by which refugees could reach the Swedish border on foot.
In a real show of solidarity, more than 300 Danes helped families of refugees by driving them in their cars or boats, or paying for their train tickets. These people were prosecuted and given fines of up to 3,000 Euros.
In January 2016, the Danish parliament adopted a series of laws complicating the admission procedures for refugees by extending the waiting period to 3 years before a person becomes eligible to apply for family reunification measures. Authorities also ordered the police to confiscate belongings, cash and jewelry found on refugees arriving in Denmark.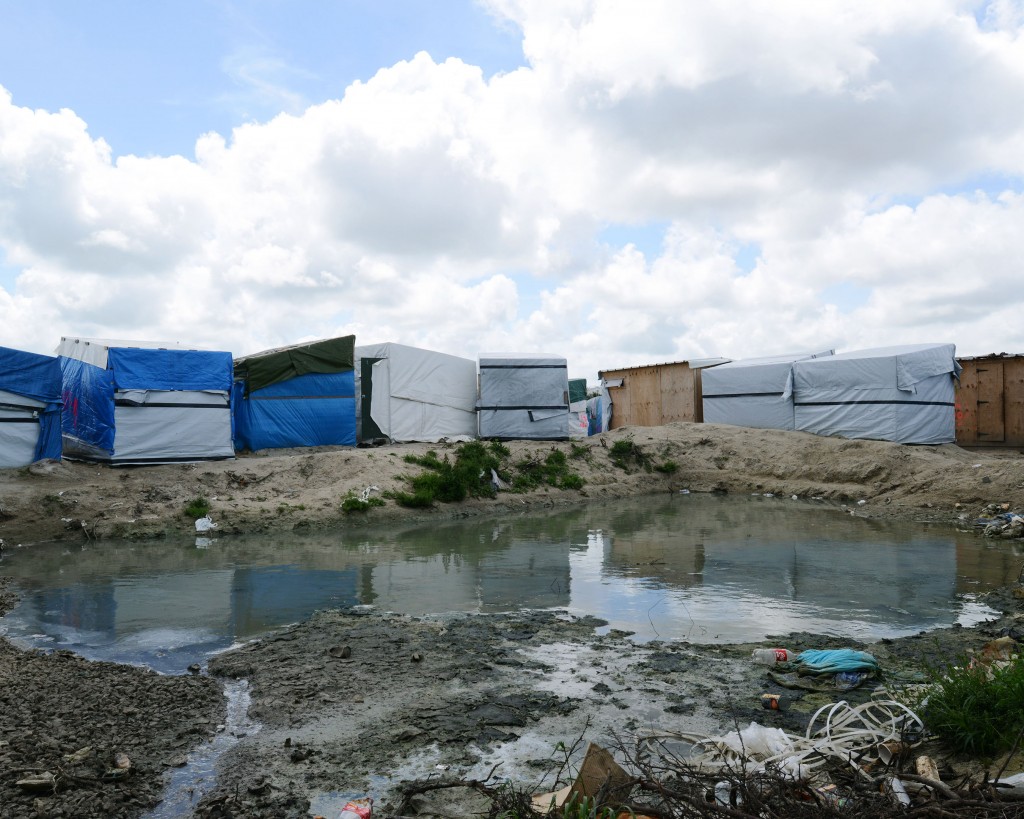 "Calais, the graveyard of hopes and dreams. There, a lot of people completely lose their way."
Hassan, a Syrian exile
Facing England on the other side of the Channel, up to 10 000 people are crowded into one of the biggest shanty towns in Europe.
For years, those living there have been left to fend for themselves out in the mud and the cold, and are easy prey for traffickers and gangs, the kings of the Calais Jungle. These men use isolated minors to run their errands, fetch water, stand in the queues for showers. They also use them for opening the trucks, extorting families and monitoring parking areas, as well as blocking the access of some to food distribution. Everything, including the promise of passage is paid for in cash or in exchange for sexual services.
Prices for crossing the Channel have reached new heights: between 5,000 and 7,000 euros per person. Senait arrived alone at the age of 14. Just like about twenty other young women, she had to resort to prostitution in the Jungle. Surviving. At 5 euros per client.
"All the girls get offered to work as prostitutes. The weaker ones accept, but if you refuse no one forces you, unless you owe money."
In 2015, 90,000 unaccompanied minors sought asylum in Europe.
In October 2016, the Jungle was dismantled and over 5,000 people were "put under shelter". Today Calais faces the problem of returning refugees, including numerous minors, and mayor Natacha Bouchart has issued an ordinance forbidding the distribution of food to refugees.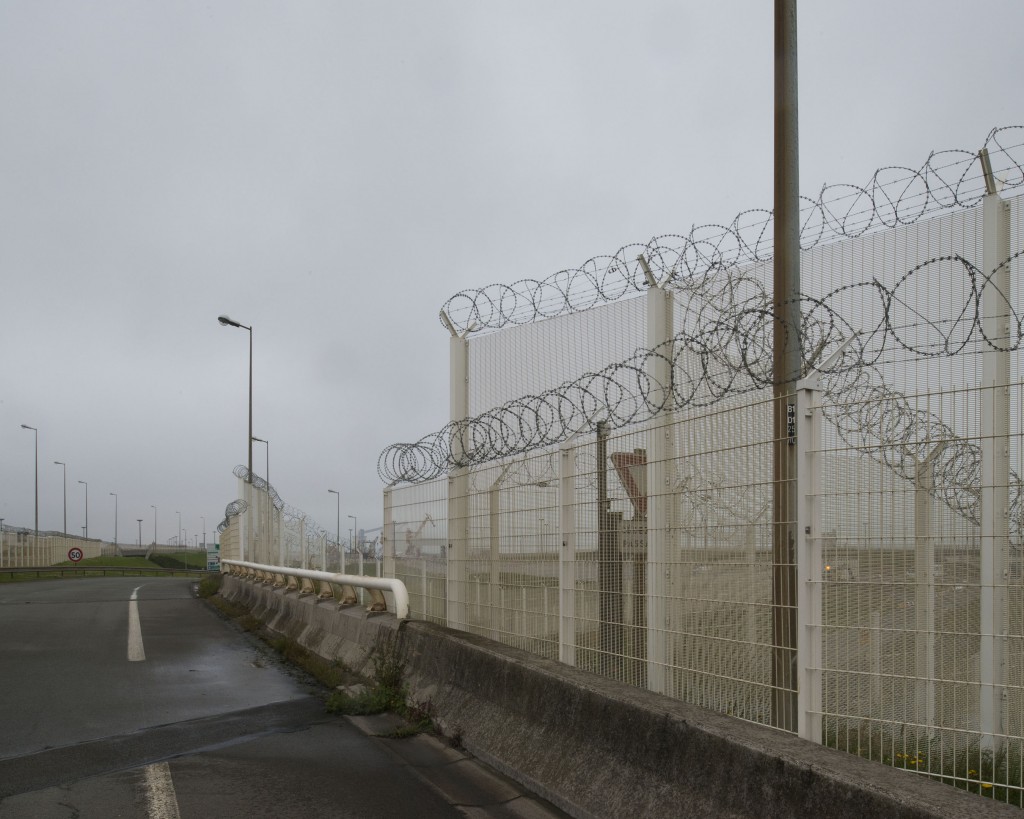 The port zone of Calais now features a "safety corridor" that extends almost 3 kilometers and is guarded by a double fence, one 4 meters high, another over 2 meters, both topped with barbed wire and an infrared detection system. 1,300 policemen, both anti-riot police and local forces have been deployed in a city of 75,000 inhabitants. Calais has become the city with the highest ratio of policemen per inhabitant in France.
"Two policemen came into the lorry where I was hidden. The first used his tear gas on me. The second one hit me with his truncheon. One by one, we were beaten for a minute, including the women. They hit us inside the lorries so that they couldn't be filmed", attests Amar, a 26-year-old from Sudan.
Concussions, fractured jaws and hands, beatings, eye damage caused by tear gas, dog bites, bruising from flashball bullets… Medical records spark sharp criticism of police practices.
The better informed among them pile on thick coats to soften the blows. Stunned parents give what little care they can to their children injured by the police. In two months Doctors Without Borders signed 90 medical certificates attesting to police violence.
Although videos sometimes make it possible to identify the police officers responsible for these acts, no complaint has led to a conviction.
90 % of exiles declared they had been subjected to violence along their way.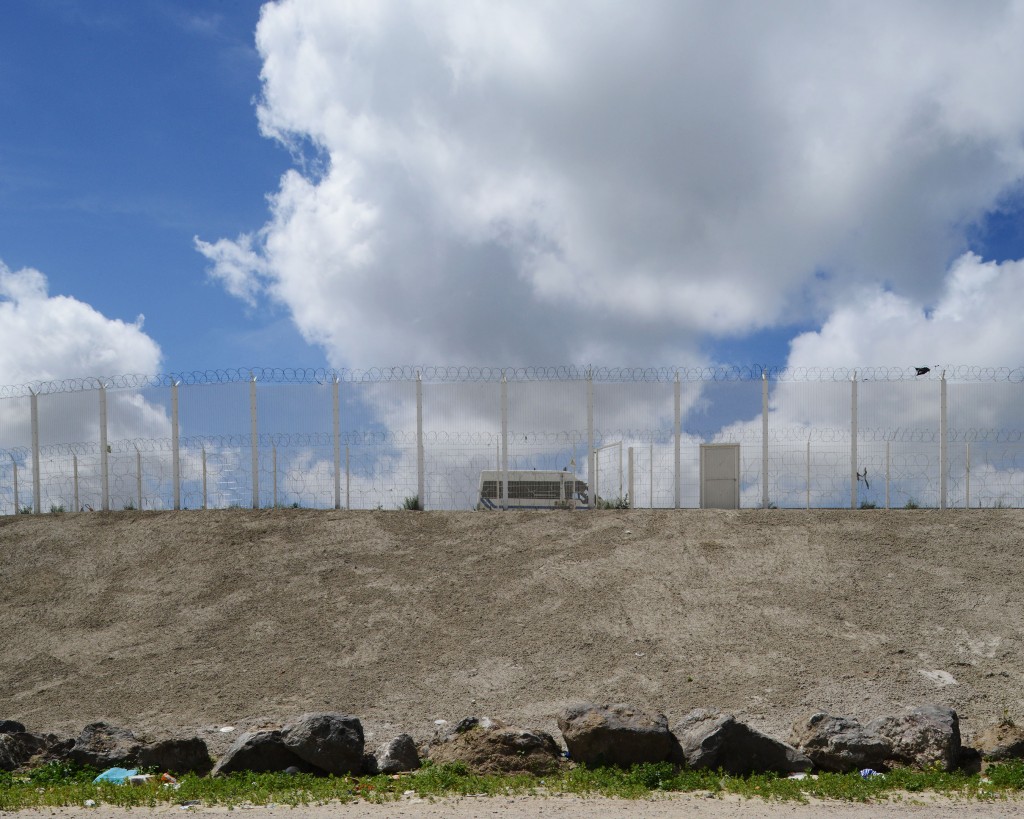 Nima, a 30-year-old Iranian, came face to face with a riot police officer after trying to climb aboard a truck in the port area. The officer hit him several times with a truncheon. As he tried to flee, the officer hit him on the back of the head, then on the face, breaking his jaw. "All the time he was attacking me, I could hear him yelling." Nima fell to the ground, at which point the police officer kicked him twice and left him by the roadside.
The "Defender of Rights", an independent administrative authority, has made an official list of examples of police misconduct:
- Disproportionate use of intermediate force weapons and tear gas.
– Police harassment, verbal violence and excessive use of force against migrants.
– Migrants hit and seriously injured by police vehicles on the motorway.
– Destruction by security forces of cameras used by volunteer workers to film police intervention.
– Deletion of recorded data.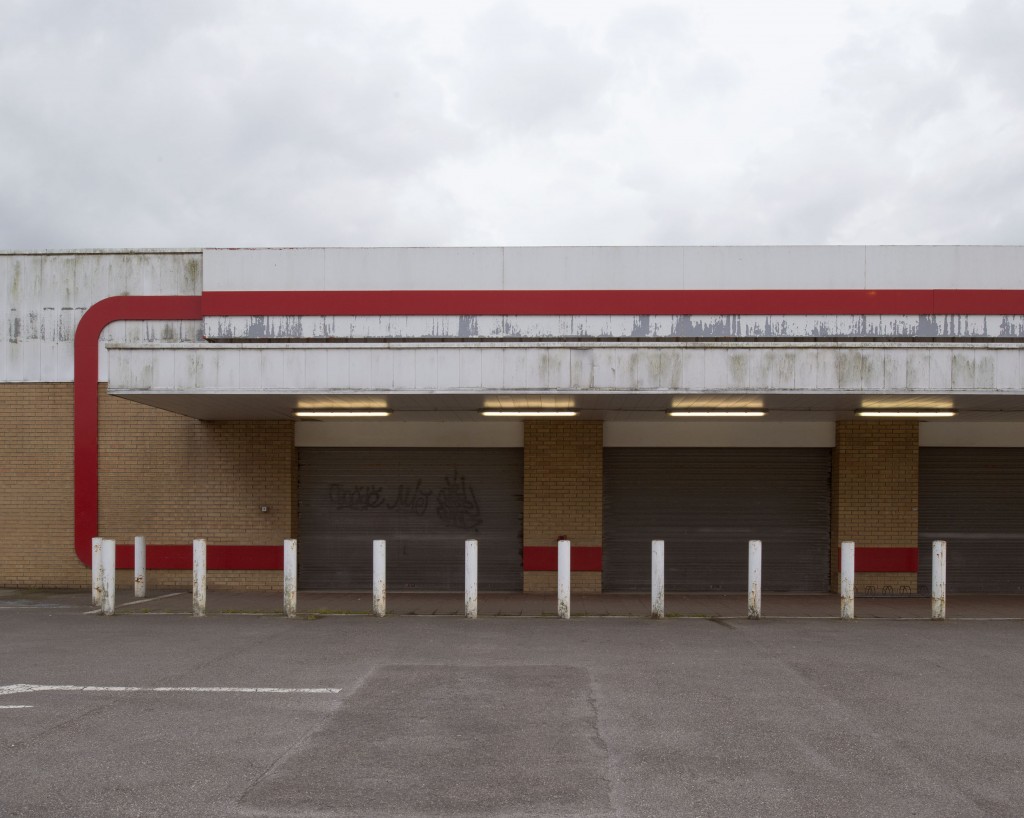 "A car cut across us and men got out holding truncheons, electric prods and tear gas canisters. They pinned me to the ground, hit me with their truncheons on the legs and on my hand. I got hit on the head, my face was covered in blood. I shouted as loud as I could. To shut me up, one of the men ground his shoe onto my mouth."
Bahar, a teenager.
"Some guys came out of the bushes. They told me "Go back to the Jungle'". Then they hit us for three or four minutes with truncheons, like the ones the police carry. I was hit on the back of my neck. I fell down. They started hitting me all over, very hard, on my hands and back. My hand got broken. Then I fainted."
Nadhim, an Iraqi Kurd.
Dressed in black, wearing hoods, wielding iron bars and truncheons… the violence of those who gang up to "beat the shit out of migrants", as they put it, adds to the violence already inflicted by the migrant smugglers.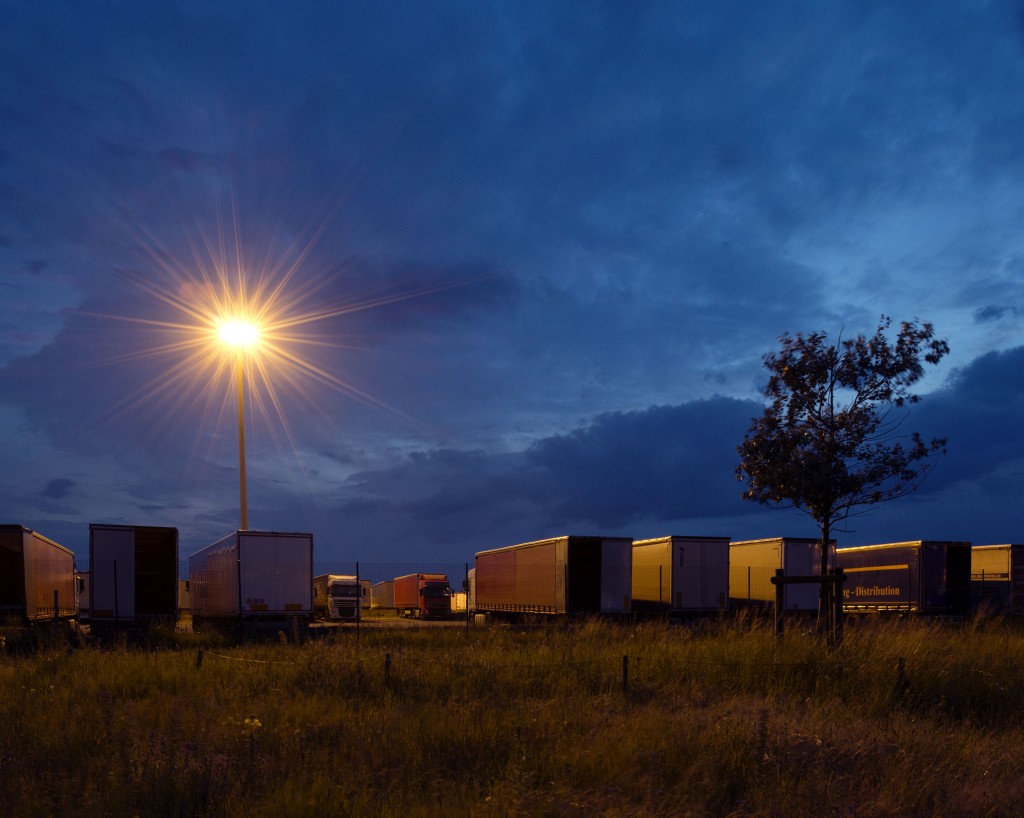 The security measures at port sites force refugees to try to cross further and further from the coast. Some crossings start directly from Paris or on lonely motorway lay-bys, in the middle of the countryside.
On 4 July, when Zahra, an Iranian woman of 37, went to climb aboard the lorry, the smuggler stopped her, saying it was full, and made her get into a refrigerated trailer. There she was raped, along with another woman, a 23-year-old refugee from Eritrea. "I'm scared, I'm so scared, I don't dare try again. I've never been so afraid as I am here, in France."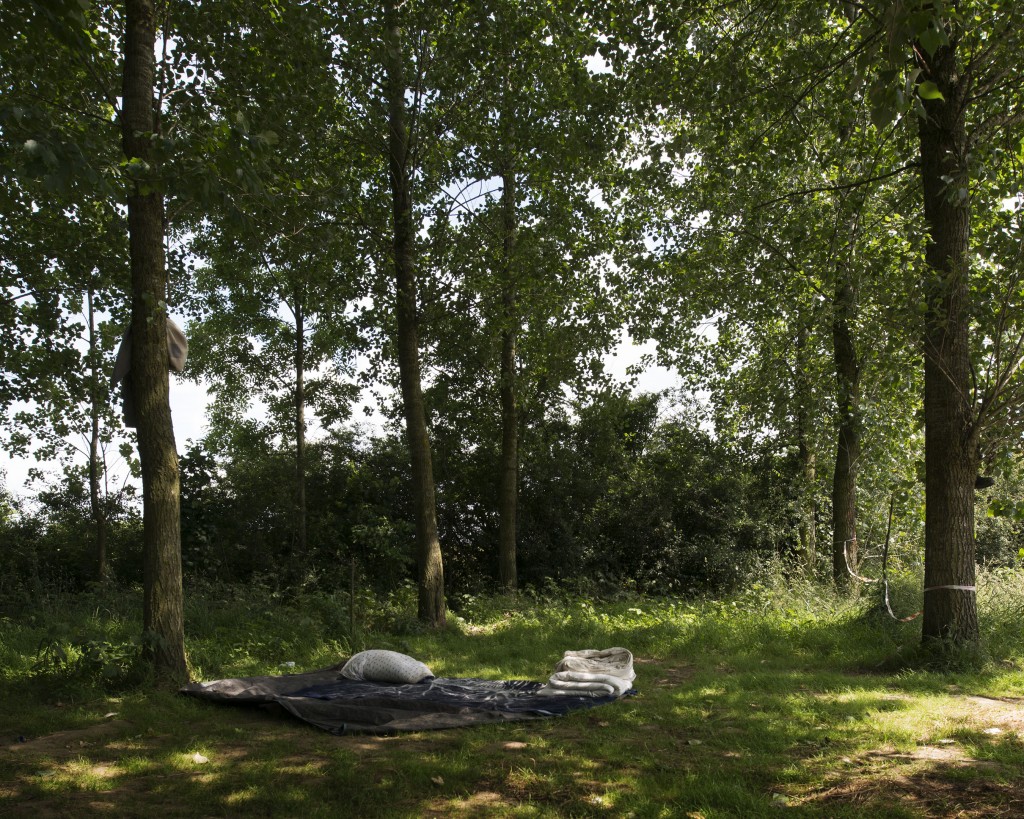 To get to the Norrent Fontes camp, women must pay smugglers a 500 euro entry fee to obtain protection and finally get access to associative services and to nearby motorway service areas.
Yohanna is 16. She left Eritrea after her mother died. When she got to Norrent Fontes, she had to sleep in a men's tent. "But as soon as I had the opportunity, I moved to the women's shed. That was a relief because over there, in the tents, it's tough, I'd rather not describe it… When your money runs out, you have to make arrangements."
Coming mostly from the Horn of Africa, the women in the Norrent Fontes camp all migrated via Libya.
"All the women get raped there, even pregnant women. When you get to Libya, you pay and you have to hide. I was very frightened during the journey. They can rape you, beat you whenever they want. Every night the smugglers change. And every night they choose who they will rape. At the port, every morning, the men are whipped and the women are raped. The lucky ones get into the boat."
Winta, aged 13, was regularly raped and prostituted herself on occasions to earn some money faster: "It was very hard, I had no control over things. I had to rely on the smugglers. In Libya I wanted to give up because it was so hard. But that would have been worse. So I continued."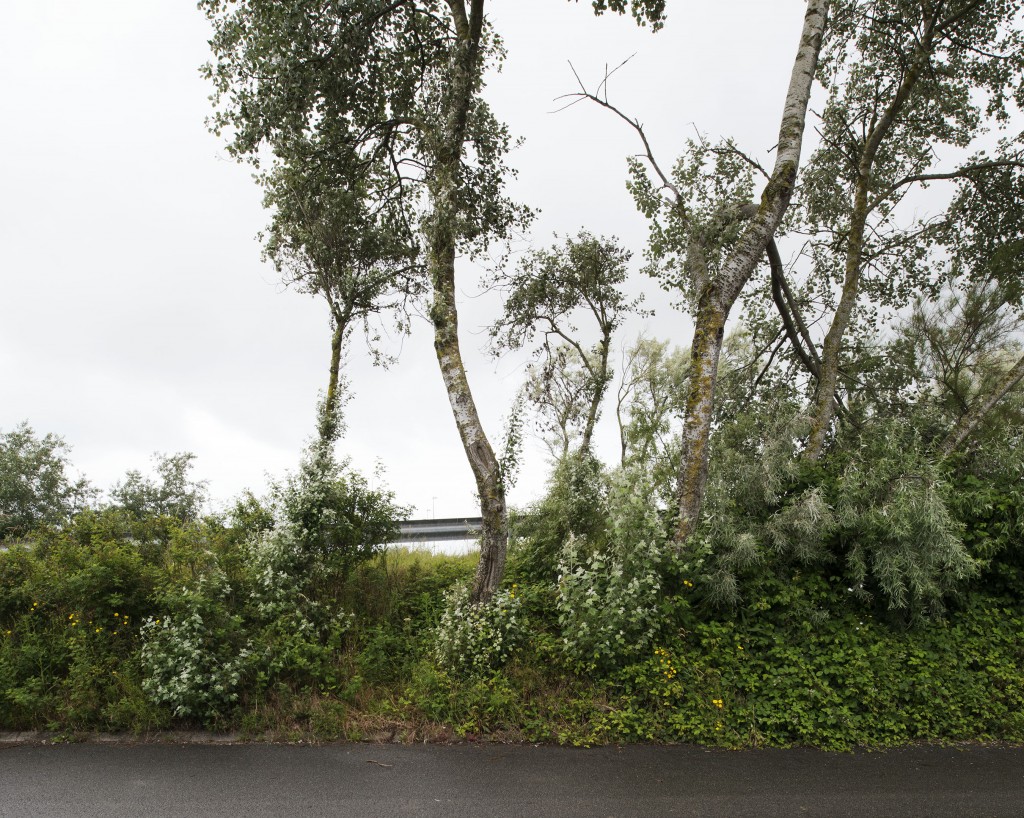 Salamaouite, a woman six months pregnant, is alone with her 7-year-old son. Every evening she tries to be smuggled into England. Every evening, the smugglers beat her to make her climb into the lorries faster. Every evening her son yells: "No, Mummy! Not the lorries, not the lorries!"
Salamaouite will try to cross until the last day of her pregnancy. Or until she dies, like Maria, the Syrian woman hit by a car on the A16 motorway on the night of 14 October of 2015.
Like Saleh, the Sudanese man of 23, crushed to death on 29 July 2015 by a lorry on a Eurotunnel unloading bay.
Like Sadik, a Pakistani in his thirties, who died of his injuries at the hospital in Calais on 28 July 2015 after jumping onto a moving train.
Like Ganet, a 23-year-old Eritrean, who died on 24 July 2015, also hit by a car on the motorway.
And like the unnamed teenager found dead on a train on 23 July 2015, in the English part of the tunnel.
And Houmed, the 17-year-old Eritrean, found drowned on 19 July 2015 in a Eurotunnel retention basin on the French side;
Mohamad arrived from Pakistan at the age of 23 to die on 16 July 2015, electrocuted on a train in the tunnel.
Abd El Majed, a Sudanese man of 45 and the father of two children, fell from a train on 7 July 2015. He died from a fractured cervical rachis.
Getenet, an Ethopian, died aged 32 on 26 June 2015, while trying to climb onto a train.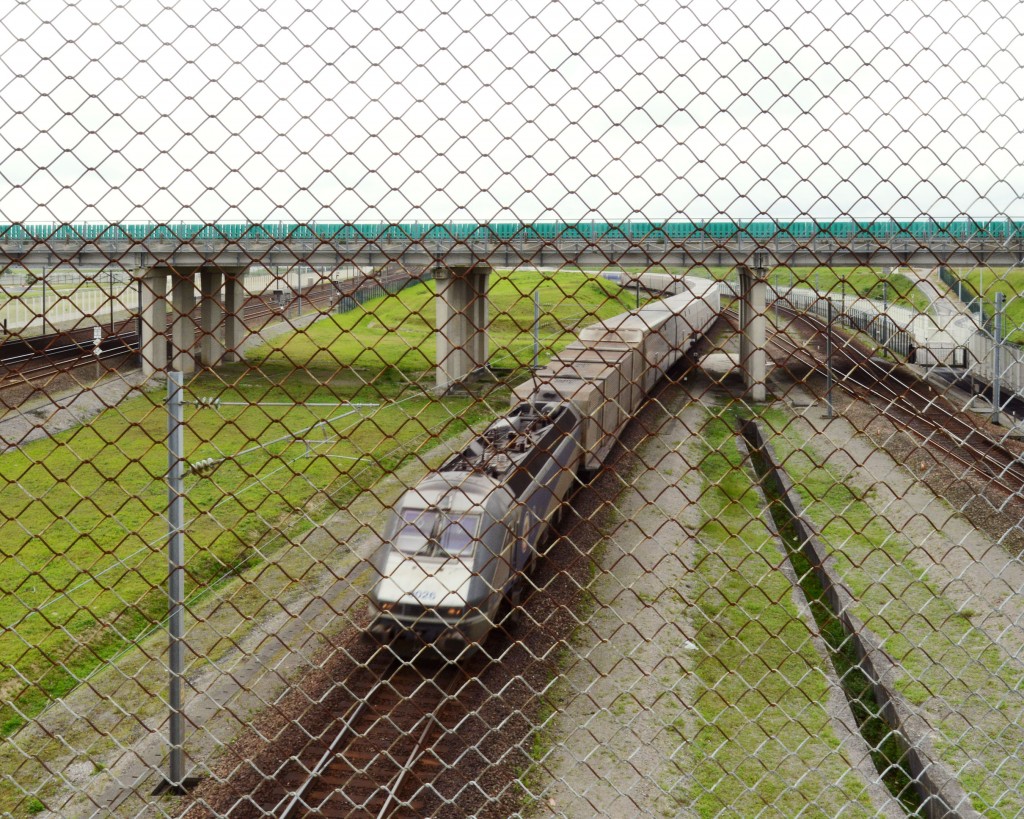 In June 2015, there were some 6,500 intrusion attempts on the Eurotunnel site. Ten people trying to cross to England died that same summer. After discovering the body of a 14-year-old on his train, a train driver of the Eurotunnel company wrote to his management. In the letter he said:
"Barbed wires, policemen, people carrying weapons, dogs, but not a tree left. A war scene. We are afraid. Afraid to start, afraid to finish, afraid to drive, afraid of what's ahead, afraid to hit, to crush, to electrocute, to reduce to a pulp a wretched, disinherited, ill-fated, damned of the Earth. We drive as best we can! No longer with our eyes on the control panel but on the embankments, the track, all around, secretly praying that there won't be a desperate attempt to jump on the train!
Seeing young migrants suddenly appear, pulling up children to climb onto the train is not easy to take. Seeing migrants jump onto moving trains, bouncing off in all directions, not to mention the sounds …
How many more will be injured? How many more will die?"
Text and pictures : Samuel Bollendorff