SILENCE
Order the exhibition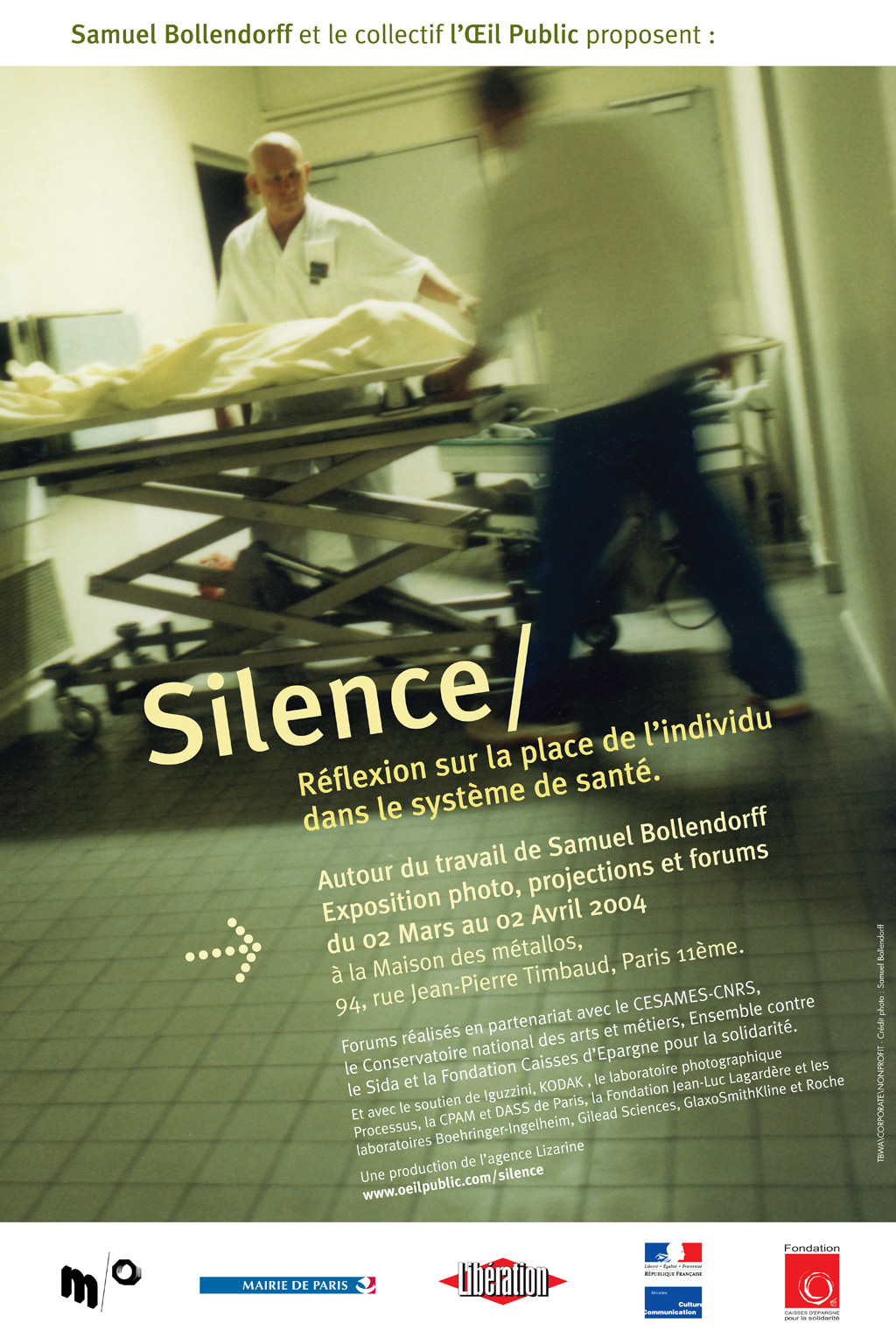 The access to the highest protection in matters of health is one of the fundamental richts of each human being, without any discrimination regarding race, religion, political or economic orientation, or social condition.
The right to health, WHO – 1997
With health as a central issue, an its social dimension as vector, Samuel Bollendorff has devoted the past five years to photographing the way we are all equal in front of illness and disease, but so very unequal in the access to treatment, in France as well as abroad. In 2004, the book and the exhibition SILENCE at the Maison des métallos in Paris, present this whole body of work. SILENCE is the answer to an interrogation on photography's power as a tool for political thought.At the heart of this event for which 150 000 euros of public and private funds were raised, a series of forums invite the public, the medical profession and elected representatives to debate the issues approached by the images.
The event will bring together 5000 persons, during the month of March 2004.
Th exhibition consists of two independent series: :
- HOSPITAL SILENCE (69 photographs)
- AIDS SILENCE (32 portraits)
- and the film They just turned 80.
See the Press Review
CONTAMINATIONS
NIGHT FALLS ON EUROPE
BURN OUT They self-immolated to be heard
THE PARADE – The movie
NOWHERE SAFE WINS PRIX EUROPA AWARD
THE FORCED MARCH the forgotten of the growth
ANGOLA for few more barils...
THE BIG ISSUE
THE MEKONG'S ROBBERY
IKEALAND life in assembly
FACING
POLICE SQUAD
TOKYO
FRENCH MAJORETTES
FASHION WEEK
JOURNEY TO THE END OF COAL
HOMO-NUMERICUS
AIDS SILENCE Drug addiction in St. Petersburg
AIDS SILENCE Generics for all
AIDS SILENCE A lost generation
INTIFADA
HOSPITAL SILENCE
THE FORCED MARCH The book
2 documentaries at EUROPA price