JOURNEY TO THE END OF COAL
A web documentary by Abel ségrétin and Samuel Bollendorff
Produced by Honkytonk Films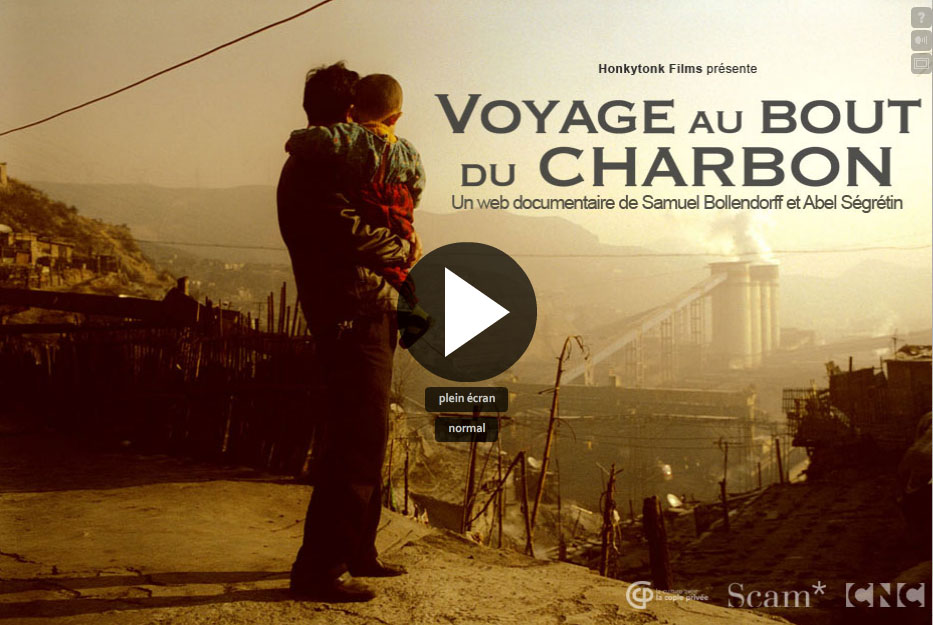 Journey to the end of coal is the pilot for a series of documentary instalments exploring the potential of new media. This format offers a complete photographic work on Chinese coal mines, enriched by sound recordings and videos taken on the spot.
SCAM award for an interactive work of digital art – 2009.
Screenings and Conferences :
IDFA Doclab, Amsterdam – November 2008
Cinema du Réel, Paris – March 2009
South by Southwest, Austin Texas – March 2009
Atelier nouveaux médias de la cité internationale de Liège, Belgium, March  2009
Festival Visions du Réel, Nyon, Switzerland– April 2009
International Book Film Bridge, Torino, Italy – May 2009
Pocket Films Festival, Paris, France – June 2009
Sunny Side of The Doc, La Rochelle, France – June 2009
Festival des 4 Ecrans, Paris, France – October 2009
Sheffield Doc/Fest, Sheffield, UK – November 2009
DOC10, Oslo, Norway – November 2009
Projection of Reality, Moscow, Russia – March 2010
FotoFestPoa, Porto Allegre, Brazil – April 2010
CONTAMINATIONS
NIGHT FALLS ON EUROPE
BURN OUT They self-immolated to be heard
THE PARADE – The movie
NOWHERE SAFE WINS PRIX EUROPA AWARD
THE FORCED MARCH the forgotten of the growth
ANGOLA for few more barils...
THE BIG ISSUE
THE MEKONG'S ROBBERY
IKEALAND life in assembly
FACING
POLICE SQUAD
TOKYO
FRENCH MAJORETTES
FASHION WEEK
JOURNEY TO THE END OF COAL
HOMO-NUMERICUS
AIDS SILENCE Drug addiction in St. Petersburg
AIDS SILENCE Generics for all
AIDS SILENCE A lost generation
INTIFADA
HOSPITAL SILENCE
THE FORCED MARCH The book
2 documentaries at EUROPA price